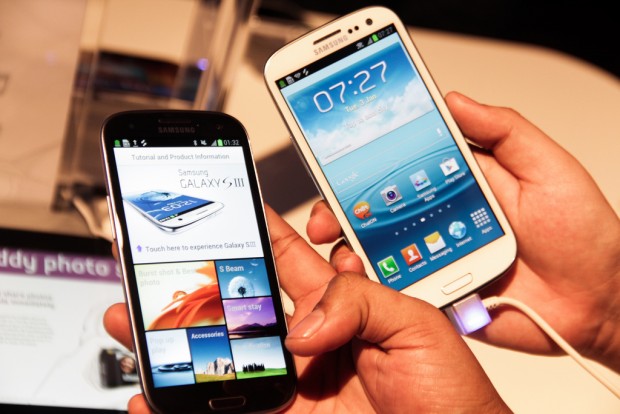 What's this? Google versus Samsung? Well, not quite. But in an indirect way, kind of. You see, Google loves that Samsung is so successful. They're an Android phone manufacturer after all, and Google makes their money through mobile ads on their apps and services. But what if Samsung is getting too big for Google to handle? That might actually be what's happening, and reports claim that Google is getting increasingly worried.
Samsung currently sells 40% of all Android devices. When you take into account how many Android devices are available and how many manufacturers there are, that's a pretty staggering number. They're far and away the leader in sales when it comes to Android phones, shipping 200 million more than the next biggest manufacturer.
So why should Google be worried with their current relationship? Turns out Samsung may be hungry for more. Google earns it dough through online-advertising through web searches and its apps like Google Maps and YouTube. Samsung has actually received 10% of that revenue in the past. But now, sources are claiming that Samsung has signaled to Google that they want more than that.
Rajeev Chand, who is managing director at Rutberg & Co. says, "There is a threat from Samsung to Google that is real. Over time, Samsung will be able to leverage its market-share dominance to negotiate better terms from Google." So it's not just Google that has noticed this, but outside observers of the two companies' relationship as well.
Now, what does Google plan to do about this? It looks like they plan on upping Samsung's competition in the Android space by helping other manufacturers. Google is meeting with other companies to ensure that devices and manufacturers themselves will begin to challenge Samsung and their Android dominance.
And there's Motorola. Google purchased the company in May of last year, and now it's looking more and more true that it was indeed an insurance policy against Samsung's rapid growth. While we haven't really seen anything groundbreaking to come out of there, Motorola has been working on Google's X Phone, which the company is preparing to be a legitimate contender to Apple's iPhone and Samsung's Galaxy S phones.
With the Galaxy S IV's reveal getting closer every day, Google and its partners need to act soon (and show the X Phone) if they really want to stem the tide. Because it doesn't look to be stopping anytime soon.
[via WSJ, image via Sham Hardy]
Related Posts