Instant messaging (IM) is an activity which almost if not all users of any PC, tablet, smartphone or any such device utilizes in this day and age and has become an integral part of everyday life for many. We are even subscribed to multiple IM services. However, this can lead to the downloading of several programs which takes up unnecessary space and can lead to unnecessary strain on system resources. Luckily the five programs reviewed here do exist believe it or not and seek to enable users to easily access all of their IM needs easily in one location.
This review is part of our Best Free Windows Software section. Check out more articles on the best free Windows programs from here.
Table of Contents
Best Free Instant Messaging Client
Program Name: Trillian
Developer: Cerulean Studios
Download Size: 21.1MB
Version Reviewed: 5.3 Build 15
Supported OS: Windows Me/2000/XP/2003/Vista/Server 2008/7
Approximate Memory Usage While Idle: 4.80MB
Pros
Crisp user interface
Tabbed chats
Multiple location sign in
Supports plugins
Support for both instant messaging and social networking protocols:

Google Talk
AOL Instant Messenger
ICQ
Bonjour
Yahoo Messenger
Skype
Jabber/XMPP
IRC
schuelerVZ
VZ
Windows Libe Messenger
MyspaceIM
IMAP and POP3 email
Facebook
Foursquare
Twitter
LinkedIn
Cons
Discussion
Trillian combines support for a large amount of platforms, seamless multiple chat tabs and a beautiful user interface and the end result is a program which requires little effort to set up and use.
Trillian gives detailed information about the current device which is being used such as its IP address, its name as well as how long it was logged on. It also supports log-ins from multiple locations and displays all devices which are logged in such as mobile phone or other computers.
Trillian offers support for several of the well-known platforms out there such as Twitter, Facebook and Skype to name a few and the setting up of these accounts is quite simple. Just select 'manage accounts', 'add account', enter your user name and password and you're good to go.
Trillian also offers several customization options such as adding new emoticons and changing skins. Trillian also offers users the facility of adjusting how the contacts, news feeds and mail are displayed as well as choosing to group like notifications. The Twitter and Facebook news feeds deserve special mention and are quite attractive.
Some other notable features of Trillian are the automatic shortening of URLs shared in tweets as well as the previewing of a website when the cursor is positioned over a URL sent in a conversation. It also supports extended functionality through the use of plugins.
Trillian should easily meet all of your requirements and my only gripe with this program is that it is ad-supported although I must say that the ads are not as intrusive and annoying as one would usually expect with an ad-supported program.
Despite being ad-supported, this program is stable and well put together and is deserving of the number one spot.
Runner Up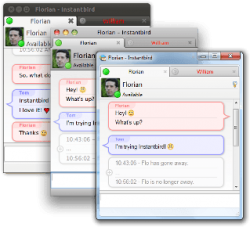 Program Name: Instantbird
Developer: The Instantbird Team
Download Size: 12.3MB
Version Reviewed: 1.4
Supported OS: Microsoft Windows XP SP 2, Windows Server 2003, Windows Vista, Windows 7, Windows 8
Approximate Memory Usage While Idle: 35MB
Discussion
Instantbird is both stable and simple with a clean, beautiful interface designed to keep you from being distracted from your conversations.
With instant bird your conversations are grouped together in tabs making it very easy to switch between them and also helps to avoid the clutter of multiple windows. The program also allows users the flexibility of customizing their conversation windows through themes. Instantbird adheres to a simple interface right through, allowing users to group contacts who you have added on multiple accounts in one area, so that you can easily contact them no matter what.
Instantbird supports the following:
Google Talk
Facebook Chat
Twitter
AIM
MSN
Yahoo
ICQ
MYspaceIM
Netsoul
Groupwise
Bonjour
Gadu-Gadu
IRC
QQ
Odnoklassniki
SIMPLE
Sametime
Vkontakte
XMPP
Yahoo JAPAN
Much like Trillian, setting up accounts is relatively simple, requiring just a few clicks to set up your existing accounts with your favourite IM platforms.
Another powerful feature of Instantbird is the ability to add plugins in order to extend the functionality of the already powerful program. The add-ons fall under the following categories:
Developers
Dictionaries & Language Packs
Emoticons
Message Styles
Plugins
Protocols
Security
Theme
Usability
Unlike Trillian, Instantbird is open-source and is free of ads.
Instant bird is no doubt an excellent IM client but unfortunately it does not readily support Skype.
Despite its lack of support for Skype, the combination of stability, the beautiful interface the large number of protocols supported and the ease of use make Instantbird one of our top choices.
Honorable Mention 1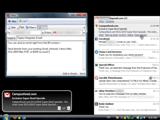 Program Name: Digsby
Developer: dotSytax, LLC
Download Size: 18.2MB
Version Reviewed: Build 30295
Supported OS: Windows All
Approximate Memory Usage: 12.2MB
Discussion
Digsby is a social network and email management tool with a simple user friendly interface which allows you to manage multiple accounts easily from one location.
On the first execution of the program, you are prompted to create a Digsby account. Take note that adding accounts is as easy as the developers claim. You literally just need to input the user name and password for the desired account and that is it; from there you will be able to receive emails/messages/notifications from your accounts.
After creating your Digsby account you can sign up for as many of the following social networking/instant messaging/email services as you like and the best part is that all of your contacts will be placed under one contact list.
One of the other awesome aspects of Digsby is that it can be run as a portable program. Also nicknames of your choice can be assigned to friends so that you don't have to remember their screen names. Tabbed browsing is also an asset as seen with the other offerings and helps to keep everything simple and organized.
Digsby is a decent offering however, unsightly ads are displayed in chat windows and it can take a while to connect to accounts.
Honorable Mention 2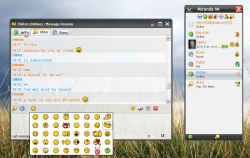 Program Name: Miranda
Developer: Miranda IM
Download Size: 3.12MB
Version Reviewed: 0.10.10
Supported OS: Windows 95, 98, ME, 2000, XP, Vista, 7
Approximate Memory Usage While Idle: 4.48MB
Discussion
Miranda supports multiple platforms, is very light on system resources, extremely fast and easy to use. It also supports several plugins which enhance the programs' basic functionality.
Miranda is a simple program 'out of the box' but with its large plugin database there are plenty features which you can add to it so that it can rival programs which come bundled with tons of features. Some of the more popular protocols supported by Miranda are as follows:
AIM (AOL Instant Messenger)
Facebook
Gadu-Gadu
IAX (Inter-Asterisk Exchange)
ICQ
IRC (Internet Relay Chat)
Jabber
MSN
Netsend
Tlen
Yahoo
And more…
Some of the more notable plugins are the weather, Facebook and Skype plugins which offer users the functionality suggested by their names.
Miranda's shining point is its simplicity so don't expect a polished interfaced like that of Instantbird or Trillian. Also on installation, it doesn't support many of the platforms which are supported by the previously mentioned two programs and requires the use of plugins to activate this support which some users may find undesirable.
With that being said Miranda's simplicity is definitely an asset and users can easily set up a simple install and satisfy their basic IM needs.
Other Alternatives
Related Posts