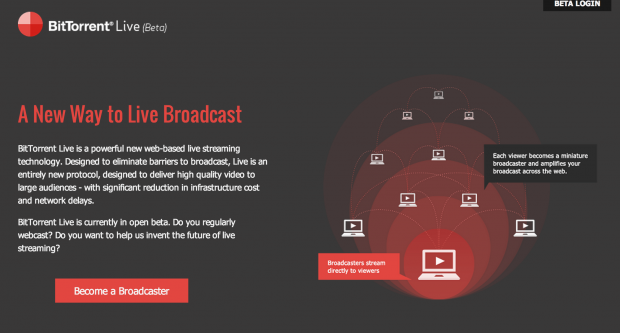 BitTorrent has announced a new video service called BitTorrent Live. Streaming services are gaining popularity these days, but BitTorrent live is bringing a little twist to it: the service will utilize the P2P sharing functionality of the BitTorrent protocol making it much like downloading torrents — the more people there are, the better.
This is actually the opposite of how other streaming services out there now work because when the number of people watching go up, you get closer to the possibility of the stream not holding up serving up video to everyone viewing it. A perfect example of this was the live-streamed announcement of Sony's PlayStation 4, which saw multiple streams (sites even) go down due to the massive load. If they were using something like BitTorrent live, the feed would've theoretically gotten better and better the more people tuned in.
This is also huge from a broadcaster's perspective, as the barrier of entry has been significantly reduced. Mostly, what will matter is just getting the viewers to watch your content — all the load will be taken care of by them.
BitTorrent Live is now in open beta, and if you're interested, there's already some content you can watch after installing their plugin. The company's motto for the service, quite fittingly is: "Live streaming by the people, for the people."
[via The Next Web]
Related Posts