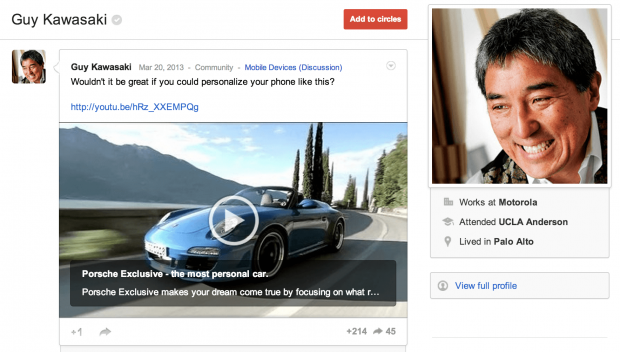 Recognize that fellow up there? That's Guy Kawasaki, formerly of Apple but now at Google's Motorola division. If that picture he posted on Google+ seems completely unrelated and harmless to you, hold on. There is reportedly more to it.
The Porsche video he linked in the post is an exclusive program where customers can custom-design their own Porsche by choosing from a list of options. BGR notes that in the past, one of the rumors floating around about Google's X Phone was the ability to customize it by picking the hardware and features of the phone. Which is insane, by the way.
"Wouldn't it be great if you could personalize your phone like this?" Kawasaki writes. It would be more than great, actually. Depending on the type of options available, an option to do something like that has the potential to be revolutionary.
It also gives a whole new meaning to "giving options" when it comes to Android devices. And as long as it doesn't aggravate Android's woes with fragmentation, I'm sure many Android fans would agree.
[via BGR]
Related Posts