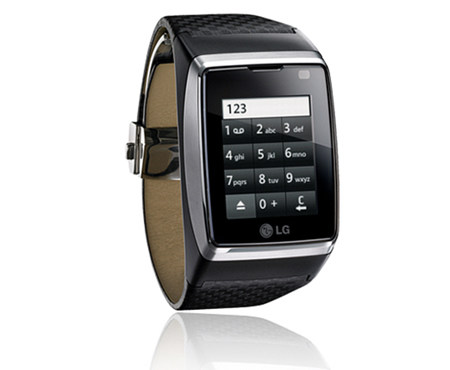 The headline says it all — this is getting  ridiculous. A report out of The Korea Times says that LG is also building a smart watch. The company joins Apple, Samsung and Google as companies who are heavily rumored to be working on a smart watch. Well, maybe except for Samsung, they've already gone out and said it.
LG isn't without experience in making wearable tech, as you can see from the image above. Pictured is the company's GD910 Watch Phone. It's got a 1.3-inch touchscreen, 3G connectivity, Bluetooth, an mp3 player and even video-calling capabilities.
But what's rumored isn't a full-blown phone in a watch's body, but something more akin to what the other companies are rumored to be working on, which is a companion device that would link to your existing phone and display notifications and more. LG's watch is also rumored to be running Android, which might be the case for Samsung and Google's watches unless they've built new software for the new form factor. There's also a chance that LG will utilize the Firefox OS on their smart watch.
Another intriguing little tidbit is that LG is also working on another wearable piece of technology that's being described as something similar to Google Glass.
Add this rumor to all the previous smart watch rumors and you really have to wonder: What's the tech landscape going to look like a year from now? Are fanboys gonna be arguing about which company's smart watch is the best? I can't wait.
[via Android Authority, The Verge]
Related Posts