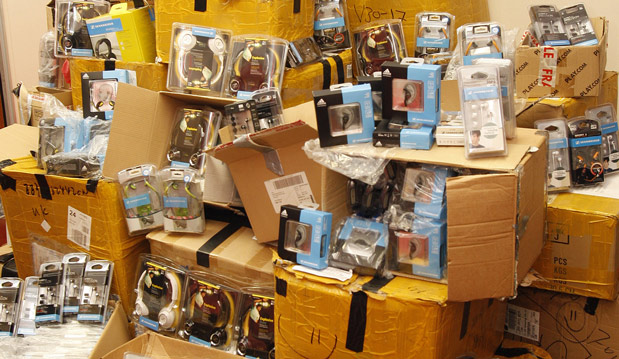 Knock-offs seem to be a lot more prominent these days, especially in the mobile industry. There are some products that you never expect to be copied, but more surprising things have happened. Take this next story for example, about a UK man who was accused of being one of the "most prolific sellers" of knock-off electronic accessories.
More than 4,000 counterfeit electronic components were found at Michael Reeder's house. The total cost of confiscated materials was around £250,000 ($400,000). Many of his counterfeit electronics included Sennheiser and Monster branded headphones.
Sennheiser claims that the recovered supply only comprised about 1 percent of the total items Reeder has sold online. Because of how much he sold, Sennheiser is now particularly interested in Reeder's prosecution. No doubt they'll push for a guilty sentence.
Mr Reeder's sentence of two and a half years in prison is amongst the heaviest ever given to someone convicted of selling counterfeit products in the UK. He was found guilty of all 13 charges that were brought against him, including selling counterfeit goods to a school in Bristol. His case is one of the largest of its type undertaken by trading standards services anywhere in the UK.
Sennheiser estimates 400,000 counterfeit items were sold online. That's quite an egregious charge for such an independent party.
Peter May, Sales and Marketing Director at Sennheiser UK, said: "Counterfeiting is something we take extremely seriously because it hurts unwitting and innocent consumers. We've worked closely with Portsmouth Trading Standards for some time on this case because we knew just how significant a counterfeit trader Mr Reeder was – at one point we estimated that almost 80% of all the complaints we received were due to the fake products he was selling illegally under our brand name.
Sennheiser implemented several authentication technologies last year that allow them to verify the validity of their own products. One of the new technologies involved placing QR codes on retail packaging. Customers can then scan the QR codes with a reader and confirm the product's authenticity online.
Sennheiser has also introduced a series of identification technologies on its packaging and products to protect customers against fakes. Each product comes with a unique security label as well as a QR code on the packaging, which consumers can scan to confirm their product's authenticity online.

Peter Emmett, Trading Standards Manager at Portsmouth City Council, said: "This has been the most complex and difficult investigation ever undertaken by our team, producing more than 2,000 pages of evidence. We are very satisfied that Mr Reeder has been convicted for his criminal behaviour, and we'll now be asking the court to order refunds for customers who gave statements about the fakes they purchased and who were never given their money back."
This just goes to show that the real victims here are the customers who were affected by this whole thing. Obviously they were not reimbursed for their troubles after purchasing counterfeit items.
Be careful out there fellow dotTechies, it's a cruel world.
[via Engadget]
Related Posts