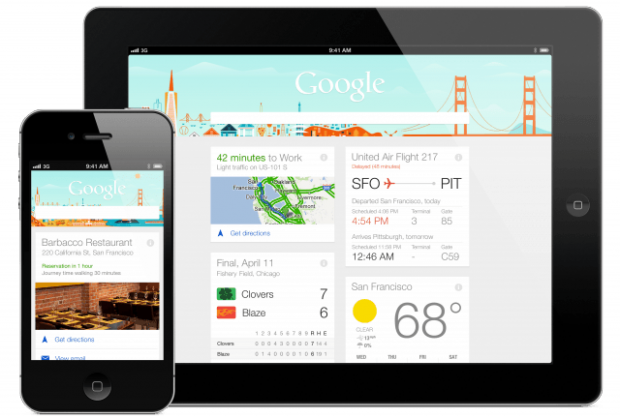 In a rather odd turn of events, Google's much-acclaimed voice search/commands platform Google Now is available for iPad and iPhone users. Until now, Google Now was only available to Android devices running version 4.1 Jelly Bean and up.
If you're not familiar with Google Now, it's essentially a personalized web search experience that delivers specific content based on your browsing habits. It's actually integrated into the latest Google Search app so you don't have to download anything new to get it- just update the Search application, of course.
During last week's earnings call, Google CEO Larry Page said, "Our goal is to get you the right information, at just the right time. Voice commands are going to be increasingly important.  It's just much less hassle to talk than type."
There are still limitations however which means iOS users won't get full unfettered access to the Google Now experience. That's not to say it's dumbed down, but there are several things the iOS version simply cannot do. For example, Now on iOS won't display boarding passes, nor can it synchronize with Fandango. Also, Google Now for iOS does not display recent topics, or interesting nearby events like the Android version does.
What can you see? According to Google, Now for iOS will display things like traffic conditions for regularly traveled routes, shipping notifications and delivery updates, movie theater showtimes, breaking news stories and more.
This comes as quite a surprise, and follows a recent rumor that Google will be adapting their voice search service for use via a web based interface. It's possible this is a necessary move in order to bring a web based Google Now service to fruition. I'm of mind that Google just wants to gloat and show iOS users that Siri isn't quite so amazing- this is pretty obvious with all the voice search assistant apps releasing lately. Right now, the voice assistant game is pretty hot which is why there are so many options available.
If you're an iOS user and you plan on trying out Google Now, throw a shout out in the comments below and let us know what you think. If you hate Google Now, well then go ahead and share that too– all comments are welcome!
[via Ars Technica]
Related Posts