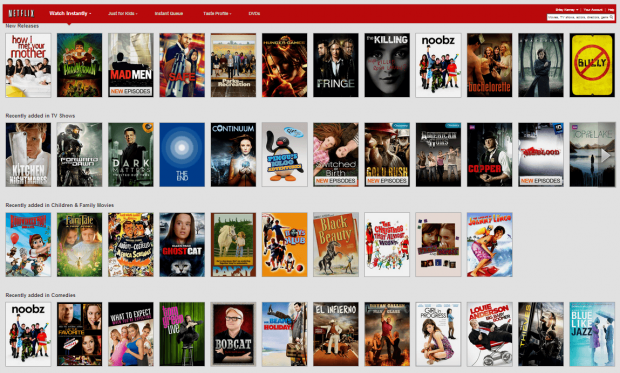 Netflix has both gained content and lost some over the years. If you remember, back in February of last year the contract between Netflix and Starz expired and was never renewed. As a result, Netflix subscribers lost access to a pretty hefty selection of new movies and exclusive content like Spartacus.
According to Mashable, Netflix is about to take another hit. Expiring contracts with Universal, MGM and Warner Bros means that the service has lost about 1,794 streaming movies and TV shows belonging to the three companies. All of this happened yesterday (May 1st), so the related content is no longer available through Netflix.
The expiring content includes titles like Cruel Intentions and Big Daddy. While it's not a significant loss for Netflix, it does make their total movie selection a little more barren. Okay, so maybe it's not all that barren yet, but you get the point.
All of the Warner Bros expiring content will instead be offered through a new streaming service titled Warner Archive Instant. Warner's own streaming service will run you $10 a month and it will offer access to their full catalog of films. Unfortunately, this seems to be the new pattern- publishers are trying to make a quick buck by offering their own streaming service. But they seem to forget that consumers are probably not going to subscribe to a bunch of different services for $10 each.
I digress.
Surprisingly, the CEO of Netflix Reed Hastings even discussed the possibility of letting the contract with Viacom Networks expire. This would see shows from Nickelodeon, MTV, VH1 and BET being removed from Netflix's catalog. So, not only are we losing Big Daddy, we might be losing Dora the Explorer and Spongebob Squarepants too?! What is the streaming world coming to?
Netflix responded to Mashable, stating that they'd much rather focus on exclusive content. If you didn't already know, Netflix has three exclusive TV series currently available for streaming: Lilyhammer, House of Cards and Hemlock Grove. In my opinion they are decent shows, but they are not so good that subscribers would flock to Netflix just to watch them.
"Netflix is a dynamic service, we constantly update the TV shows and movies that are available to our members. We will add more than 500 titles May 1, but we also have titles expiring, this ebb and flow happens all the time."

"We are selective about what's available to watch on Netflix. We often license TV shows and movies on an exclusive basis, so we can provide a unique experience. We'll forego, or choose not renew, titles that aren't watched enough. We always use our knowledge about what our members love to watch to decide what's available on Netflix. Our goal is to be an expert programmer, offering a mix that delights our members, rather than trying to be a broad distributor."
Are you a Netflix subscriber? What do you think of this news?
[via Ars Technica, Mashable]
Related Posts