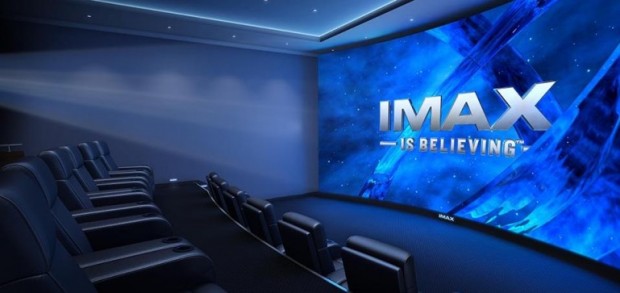 Do you love movies? Have you ever wanted to own a private theater or screening room? Well it turns out now you can have more than just that, if you've got the cash that is. It's now possible to build your very own IMAX private theater. That's right folks. You can experience IMAX at home, without any pesky patrons, and access to truly unlimited popcorn and drinks (if you buy them beforehand).
Better yet, the default IMAX setup is modeled after a real screening room currently located in Santa Monica. Film greats such as Christopher Nolan, James Cameron and JJ Abrams have all been to the screening theater to watch their unreleased films in IMAX.
This isn't just an equipment setup you can put together in a day, however. IMAX team members actually work together with architects (hired by the consumer) to assemble a true home theater with optimal design. More specifically, they use interior design to set up the room for proper acoustics, viewing angles and more. It makes a lot of sense, considering IMAX is touted to offer the best experience possible.
Once the private IMAX theater is all set up, an authorized service center will remotely monitor the theater 24/7. If something goes wrong, then the company claims a technician will respond less than five minutes after the fact. I'm guessing for the kind of money that you'd spend on a system like this, constant tech support is the least they can do.
The IMAX setup includes a full floor-to-ceiling and wall-to-wall screen, combined with a 4K resolution dual projection system for incredible picture quality. The projector is capable of both 2D and 3D format video, so that consumers can watch the movies in whatever format they desire.
The IMAX private theater also includes a 7.1 channel HD audio system with loudspeakers that are laser-aligned. To translate, that means the sound system is placed perfectly in order to optimize audio playback. Even more amazing, is the fact that the audio system makes use of microphones in order to monitor the playback channels, ultimately allowing for precise audio tuning.
Unfortunately, there's no mention of price. For now we'll just have to make a few guesses about how much a system like this will cost. I'll let you go first, what do you think the price tag is on something like this?
[via IMAX Private Theatre, Gizmag]
Related Posts