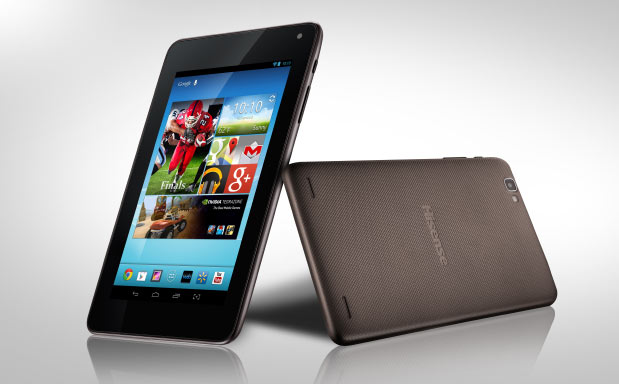 Budget tablets are something of a running joke in the tech world, especially when you can pick up the stock Nexus 7 directly from Google for $199. It's a relatively cheap tablet that also packs a nice punch thanks to subsidized pricing from Google.
Chinese manufacturer Hisense is going to undercut the market with their latest offering, the 7-inch Sero 7 LT and Pro tablets. Furthermore, both models will be available in Walmart stores starting tomorrow (May 24).
The Sero 7 LT will include a 1.6GHz dual-core processor, 1GB of installed RAM, 4GB of internal storage, a 0.3MP front facing camera, 7-inch touchscreen display (1024 x 600), and a four hour battery rating. In addition, it includes a MicroSD expansion slot (up to 32GB) Android 4.1 and a price tag of $99.
The Sero 7 Pro will include a 1.3GHz quad-core Tegra 3 processor, 1GB of installed RAM, 8GB of internal storage, a 7-inch touchscreen display (1,280 x 800), a 2MP front facing camera with a 5MP rear facing cam, up to 10 hours of battery life and Android 4.2. Obviously, the Sero 7 Pro is a little pricier at $149.
Needless to say, if you're on a tight budget both models seem like a pretty decent value although I can't validate the build quality. Since Walmart is carrying them, you should be able to find them on store shelves pretty easily thus allowing you to check out their physical quality. Keep in mind, we're hearing rumors that a new Nexus 7 tablet will be launching sometime later this year. If that's true, it might be a good idea to wait instead of jumping on last year's tech. Nvidia's Tegra 4 will hit the commercial market soon.
Hit the source link below to see what Walmart has to say.
Related Posts