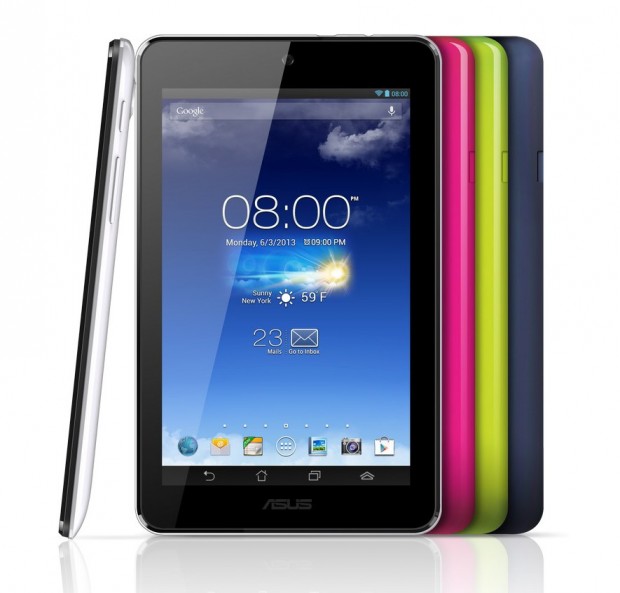 Today kicks off Computex 2013 in Taipei, Taiwan. Early this morning, ASUS took the stage to announce a ton of new products. They announced 5 new Android devices, 4 tablets and a phablet. We're going to start things off with the Transformer Book Trio.
The Transformer Book Trio has an 11.6-inch display at 1080p resolution. It's also packing an Intel Core i7-4500U processor powering the Windows 8 side and a 2GHz Intel Atom Z2580 chip for the Android side. Yes, this is a dual-booting device that runs both Android and Windows. Storage gives you 1TB inside the dock and 64GB of flash storage inside the tablet. It also has a 33Wh cell and a 19Wh cell batteries. The Trio is said to be launching in Q3 of this year.
Next up is the ASUS MeMo Pad HD 7 and FHD 10. The MeMo Pad FHD 10 has an Intel Atom Z2560 CPU running at 1.6GHz, has 16GB or 32GB of internal storage, along with a 5MP camera on the back and a 1.2MP on the front. It has a 10-inch display as expected and is a 1920×1200 full HD IPS display. It's about 9.5mm thick and the battery can last 10 hours with 720p video playback. There's no word on availability of the MeMo Pad FHD 10 yet. The HD 7 has a 1280×800 resolution display, with a 5MP rear camera and a 1.2MP on the front. It'll come in 8GB and 16GB configurations and available in July 2013.
ASUS also unveiled the FonePad Note. It's a 6-inch 1080p device with a dual-core 1.6GHz Intel Atom Z2560 CPU, with 2GB of RAM. It has a 8MP camera on the back, and a 1.2MP on the front. It also has 3G and DC-HSPA+ data, so most likely it won't be coming to the US.
Finally we have the new Transformer Pad Infinity. We've been waiting a long time for this one. It's a 10-inch tablet with a 2560×1600 resolution display, the same as the Nexus 10. It packs the Tegra 4  CPU clocked at 1.9GHz, along with a USB 3.0 port, Bluetooth 3.0 and 4K output via HDMI. There's also 32GB of internal storage here. So far there's no indication of when it'll be available. But we wouldn't expect it before Q3 of this year.
Lots of great devices coming out of ASUS today from Computex. Which one of these interests you the most? Let us know in the comments below.
Related Posts