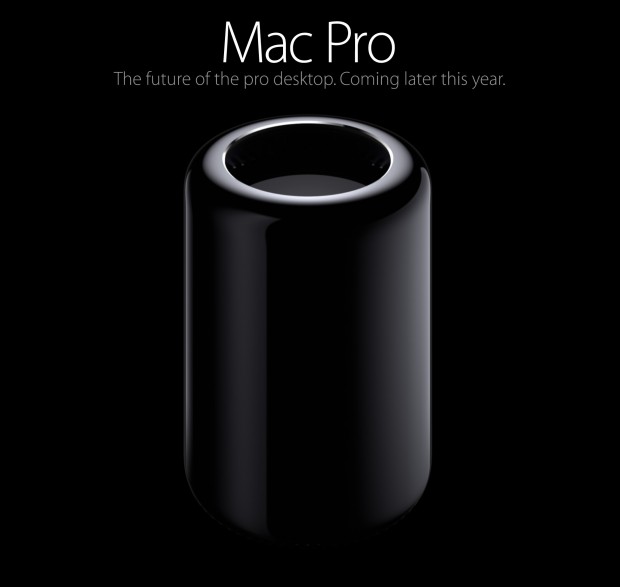 Apple took sometime during its opening keynote at WWDC 2013 to give Mac Pro fans a sneak peek at the future. The Mac Pro is anything but dead: The high-end Apple desktop has a radical new look, high-end components and it'll be made in the US.
The new Mac Pro is built for professional performance "through and through," according to the company. It'll have configurations with up to 12-cores of the new generation Intel Xeon E5 chipset and up to 40GB/s of PCI Express gen 3 bandwidth. Memory-wise, it has a four-channel DDR3 memory controller running at 1866MHz and will deliver up to 60GB/s of memory bandwidth. AMD FirePro workstation-class GPUs will cover the graphics front with up to 6GB of dedicated VRAM. And yes, that was an 's' because the Mac Pro will come with two of those GPUs standard. Instead of a SATA-based SSD, the machine will be using PCIe flash storage for even faster performance all around.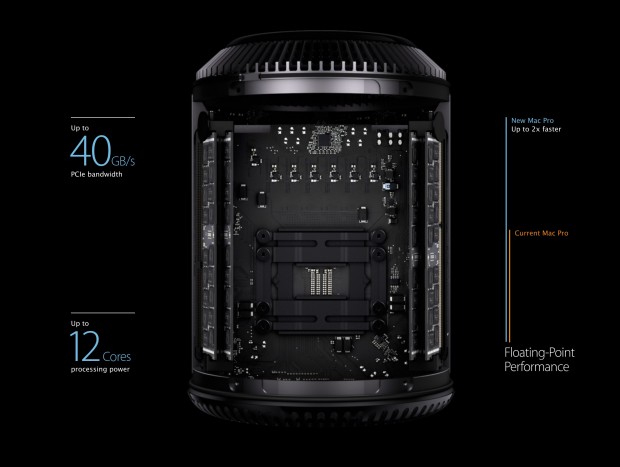 And you can't talk about the new Mac Pro without talking about its new design. It's probably safe to say that we've never seen a computer quite like this before, but it's not all for show. Because of the cylindrical design, the days of having to reach around the back of your computer will be gone with the new Mac Pro — just spin the thing around and do what you gotta do. Why haven't we thought of this before?
It's also 1/8 the size of the current Mac Pro, which is a crazy size reduction no matter how you look at it. Before you think that it'll probably turn into a mini column of fire after some heavy use, check out what Apple has to say about their new unified thermal core:
Rather than using multiple heat sinks and fans to cool the processor and graphics cards, we built everything around a single piece of extruded aluminum designed to maximize airflow as well as thermal capacity. It works by conducting heat away from the CPU and GPUs and distributing that heat uniformly across the core. That way, if one processor isn't working as hard as the others, the extra thermal capacity can be shared efficiently among them.
Finally, despite reports leading us to believe that the Mac mini would be designed and made in the states, Apple also announced that the Mac Pro is the machine they've been talking about this entire time. They'll be working with companies in Texas, Florida, Illinois, Kentucky and "over a dozen other states across America" to give the Mac Pro its "Made in the US" label.
The new Mac Pro is set to arrive later this year.
Related Posts