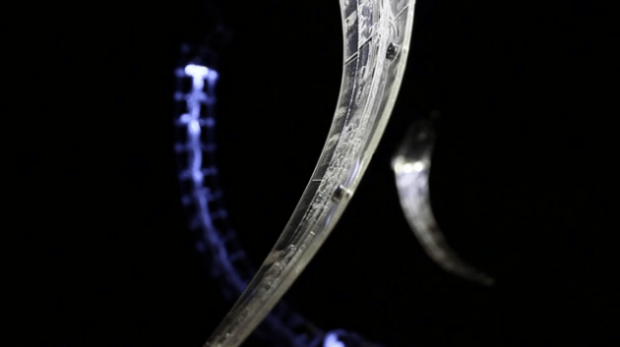 Modders have created a radically new instrument known as The Spine. The device illustrates a never before seen means of interacting with an instrument in order to create music. The Spine is attached to the body of a dancer and their body movements produce musical sounds.
Initially starting out as a foam prototype, the instrument later developed into a devie made of laser-cut acrylic, PVC tubing and PETG rods. The instrument is held together solelyby friction between the components and can be either attached to a dancer's body or operated in a handheld manner. Music is made when the dancer moves their body. Body movements triggers sensor's located in the joints of The Spine and the information is then sent to a microcontroller which  wirelessly sends the data to a computer to be turned into sound.
The sounds created by the instrument are rather eerie but this is a cool concept nonetheless. Check out The Spine in action in the video below, followed by a 15-min short documentary.
 [via Geek.com]
Related Posts