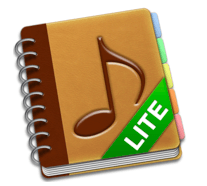 Regular readers might recall that I mentioned I recently swapped out my hard drive for a solid state drive in my aging MacBook. (This came up in my recent review of the Mac app Identical.) My recent hard drive swap-out came back to bite me in the butt earlier this week, when I had to do a phone interview with a famous fashion designer. I had totally forgotten that I hadn't gotten around to installing GarageBand or any other recording app to record the interview with. Quickly scrambling around on the App Store to find a free audio notetaking app I could use without time restrictions, I settled on an app called eXtra Voice Recorder Lite.
What is it and what does it do
Main Functionality
eXtra Voice Recorder Lite is an app for recording the audio from conference calls, lectures, interviews, or any other important conversation. The app lives in your menu bar, and allows you to organize your recordings with categories.
Pros
Small profile (small download size and sits in your menu bar unobtrusively until you're ready to use it)
Surprisingly good audio quality, even when I was recording a speakerphone conversation with my MacBook's built-in mic
Organize and add notes to your recordings
Plays nice with Dropbox
Cons
Hasn't been updated since 2012
While the app has many positive user reviews, others are scathing (the app is accused of abruptly stopping recordings or "randomly" disappearing from the menu bar.)
Some users have complained about the lack of a full-screen view
No way to edit down tracks within the app (another product, Magic Cutter, is available from the same developers to edit files)
Discussion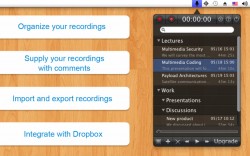 It's been a while since I reviewed an app with such a wide variety of user reviews. While there were many positive reviews for this app, there were also a ton of negative ones!
If I hadn't been in such a hurry to get on the phone for my conference call, I would have gone with a different app entirely. As it was, scared by the negative reviews for this app, I ran another recording app in the background along with eXtra Voice Recorder Lite, just in case.
As it turned out, I needn't have worried. I didn't experience any unexpected lulls in recording, no "disappearing" app interface, and no accidental deletion of files! The app interface is solid, and it was very easy to use.
I was also really impressed with the clarity of my recordings. Even though both my interview subject and I were speaking through the hazy tones of a speakerphone, my built-in mic was more than up to the task of recording our conversation so I could make notes while I talked. The sound quality was quite good indeed.
Conclusion and download link
Despite many scathing reviews, my experience with eXtra Voice Recorder Lite was a good one. The interface is solid, the sound quality is good, and I didn't lose any files. In a pinch, this app helped me out of a tight place, and I appreciated that. If you need a tool for recording lectures at school or keeping a record of your business meetings, this is not a bad option.
Price: Free
Version reviewed: 2.3
Supported OS: OS X 10.6 or later

Download size: 2.4MB
eXtra Voice Recorder Lite on Mac App Store
Related Posts