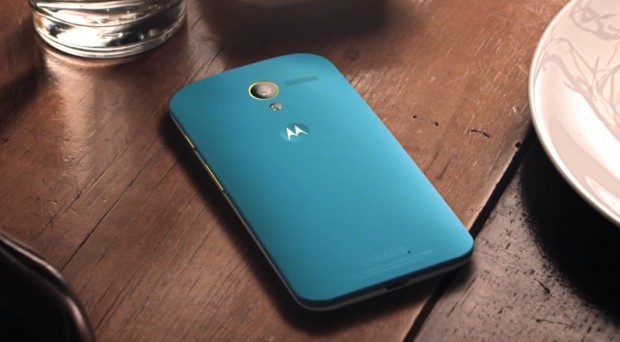 After all the rumors and leaks, Google and Motorola have officially announced the Moto X. If you've seen the device before or read about its rumored specifications — well, they were pretty spot on. But that doesn't mean there weren't any new details revealed by the rebranded Motorola.

First off are the specs: The Moto X at a glance isn't going to blow you away. It has a 4.7-inch 720p display (316ppi), 2GB of RAM, a choice between 16GB or 32GB of storage (no SD slot), a 2MP front camera, a 10MP rear camera and a custom-designed chip architecture from Motorola. The company is calling it the X8 Mobile Computing System and it's comprised of a Snapdragon S4 Pro, 1.7GHz dual-core Krait CPU, a quad-core Adreno 320 GPU and two additional processors designed to handle the phone's language processing abilities and its sensors. Phew.
Having two low-powered processors to handle features like the always-listening Google Now allows the phone to save on power and greatly enhance battery life. Speaking of battery, Motorola is promising up to 24 hours of battery life with its 2,200mAh battery — a figure I'm sure will be well-tested when it gets into people's hands. For a look at that voice-activated Touchless Control they're touting, check out the video below:
The other big thing about the Moto X is its customization options. Prior to the announcement, Motorola made a big deal about how this would be "the first smartphone designed by you." And after seeing the different things they have planned for the Moto X, I'd say they delivered on that promise.
When you purchase a Moto X from a retail store or carrier, you'll have to choose between the black or white models.But if you're on AT&T (other carriers will offer customization later), you can customize a number of things about your phone on the Moto Maker website. Customizations include color choices for the front cover, the rear cover, the accents (buttons), a custom welcome screen and an engraved signature of your choice on the back of the device. You can also throw on a case while you're at it, but I don't really think that counts. Motorola says that there are 504 potential versions of the Moto X right now and more designs will be coming out in the future. Here's a look at Moto Maker in action:
The Moto X will arrive in the US, Canada and Latin America in late August to early September. In the US, it'll be available on AT&T, Sprint, US Cellular, Verizon Wireless, T-Mobile and retailers like Best Buy. It will cost $199 with a 2-year contract. A Google Edition of the phone is also said to be coming in the future.
What do you think of the Moto X? Will this be your next phone? Let us know in the comments!
[via Motorola
Related Posts