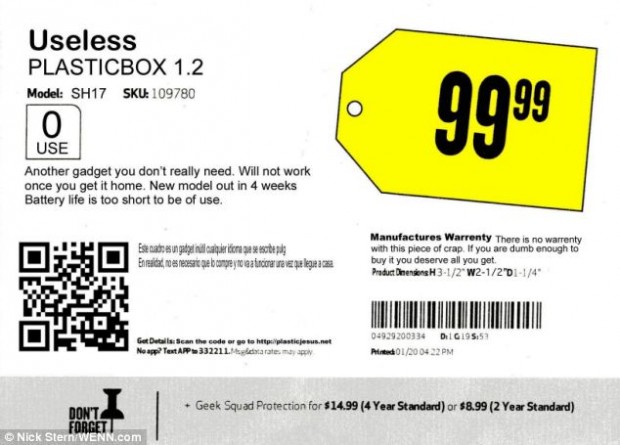 A California-based artist known as 'Plastic Jesus' tried to pass off black plastic boxes as products at five Best Buy stores in Los Angeles, California. This fake product named 'Useless Plasticbox 1.2' was displayed with a description that reads "Another gadget you don't really need", and "New model out in 4 weeks"… and it had a $99.99.
What happened is Plastic Jesus simply placed the "gadget" on Best Buy shelves without anyone knowing, although they were removed as soon as Best Buy personal found out. Fortunately (unfortunately?) no one purchased any.
In an interview with CNET, Plastic Jesus spoke about his intentions "for carrying out this unique example of 'product bombing'." He said:
"Like many people out there I have bought every new gadget available, and each one is always heralded as the gadget that will transform our life. The hype for the newest piece of kit often starts weeks before with a build up similar to a Hollywood blockbuster.

However, once we spend, often hundreds or thousands of dollars on the item we find that it is not as we were sold, either there are functionality issues, compatibility problems, and in-fact the frustration the item brings us far out weighs any benefit it will bring to our life."
He also pointed out that manufacturers refuse to fix problems on their products only after a few months of releasing them and that calling customer support can be stressful especially when a call center is in another country.
When reached out by Yahoo News, Sandler, spokesman for Best Buy, said:
"We are also flattered that Best Buy is so top of mind for Mr. Plastic Jesus, and are happy that he presumably had the opportunity to witness our expert Blue Shirts and Geek Squad members in action during his visits. Hopefully he also had the chance to check out our fabulous back to school deals."
…Did someone just call Best Buy's back-to-school deals "fabulous"? Yeah, okay.
[via CNET, Yahoo News, Image via Daily Mail UK]
Related Posts