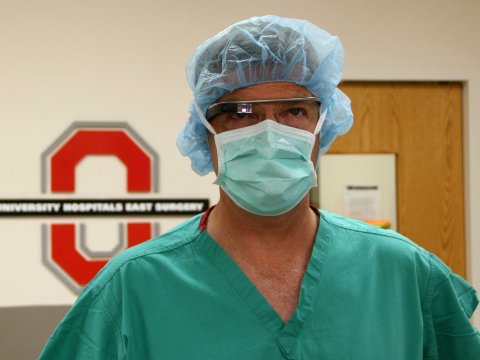 Google Glass is useful in many ways. We have covered many stories with regards to the usefulness of Google Glass, like controlling drones and helping blind people 'see'.  This time, we turn our heads to a medical school where the device is used to help both doctors and students.
A surgeon at the Ohio State University used the front facing camera on Google Glass to live stream an ACL repair surgery to his medical students through Google Hangouts video chat. I wonder if the surgery was streamed in 720p.
Dr. Christopher Kaeding, who performed the surgery, got a hold of Google Glass through his colleague, Ismail Nabeel, an assistant professor of general internal medicine at the school, who was lucky enough to be chosen to participate in the Google Glass explorer program. He then partnered with Kaeding, "helping to test the technology that could drastically change the future of medicine."
Officials from were quite impressed too. Dr. Clay Marsh, chief innovation officer at The Ohio State University Wexner Medical Center said
"As an academic medical center, we're very excited about the opportunities this device could provide for education, but beyond that, it could be a game-changer for the doctor during the surgery itself."
Watching a live feed from the surgeon's point of view is more useful to medical students than observing in person as people operating patients could miss out nitty-gritty details. The device could also be used to bring X-ray, MRI, reports or other reference materials, and have a video chat with colleagues, no matter where they are.
Check out the below video for more info, and tell us what you think in the comment section below.
[via Business Insider, Ohio State University]
Related Posts