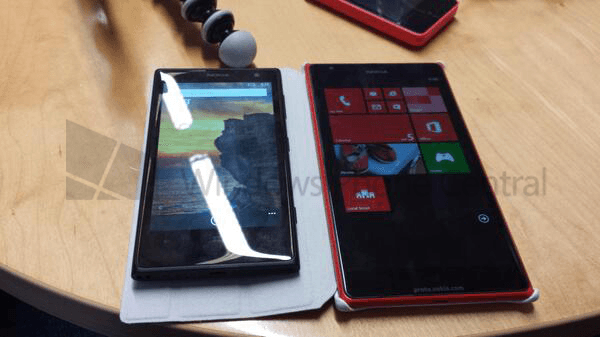 Rumors of Nokia working hard on a Windows Phone 8 device with a 6-inch display, has been making the rounds on the Internet frequently as of late. According to leaks and reports, the device is allegedly called the "Bandit," aka Lumia 1520, and it should be classified as the very first phablet device running Windows Phone 8 at the core.
Up until recently, no one really knew what the device would look like, but the Windows Phone Central team managed to get their hands on a leaked image of the Nokia handset. In the image, the Nokia Lumia 1520 seems to be lying beside the Lumia 1020, which really put its size into perspective. It's truly a massive piece of kit, one that might not bode well for your pocket.
The Nokia Lumia "Bandit" is rumored to come packed with a Snapdragon 800 quad core processor, 2GB of RAM, 32-64GB storage, and a 20-megapixel camera at the back. Furthermore, the screen resolution is full 1080p HD, another first for the Windows Phone 8 platform.
The biggest downside though, is the lacking of a 41-megapixel sensor. However, it is understandable since the sensor is quite large, and would definitely and unneeded bulk on a smartphone that is already quite large to begin with. We support the move for a smaller lens camera, now only if Nokia could the sensor size and introduce in a super-fast quad core Windows Phone 8 device in the future.
[via WPCentral]
Related Posts