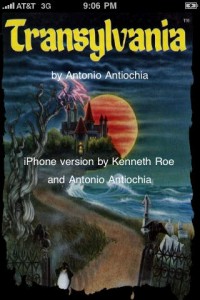 If you're a regular reader, then my predilection for retro and retro-inspired games is probably well known to you. As a longtime Apple fan, I especially love it when I get the chance to play a game that I first encountered on an old Apple computer on my shiny new iPhone. Not all games make the transition from old school computer game to touchscreen-ready iOS game, however. One game that recently caught my eye was Transylvania Adventure Lite, developed and ported to iOS by RetroVenture, LLC.
What is it and what does it do
Main Functionality
Originally released in 1982, Transylvania is now available for iOS devices. In this retro game, you must save Princess Sabrina, whilst also fighting off hordes of supernatural creatures. The game is basically a text-based adventure game, but with some old school graphics.
Pros
Awesome sound paired with charming, retro-style Apple II graphics
Excellent upgrade of the interface to be touchscreen friendly
Play the game with two types of controls: a command line, or on-screen shortcut buttons
Flexible command lines: you can type either "west" or "walk west" or "go west" (though other commands are less flexible)
Cons
Really annoying animated banner ads completely spoil the retro splendor of this classic game
Some modern gamers may not appreciate the retro charms and somewhat plodding nature of this text-based adventure game
At some point, you'll have to upgrade to the full version for $4.99
It doesn't seem like the developers have ported the two Transylvania sequels to iOS yet, which is a shame
Discussion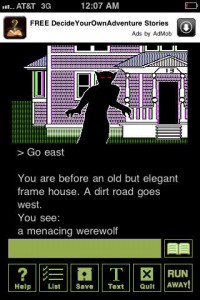 Somewhat surprisingly, Transylvania Adventure Lite opens with a sort of love letter to Steve Jobs. The developers of this iOS port of the game dedicated the project to Jobs, noting that without him or the Apple II, there would have been no Transylvania game in the first place. I already had the warm fuzzies going on just thinking about playing this retro classic, but after reading that, I was even more pumped about the game.
I am really pleased with the interface. There are quick-tap buttons that let you quickly save the game, check your inventory, and of course, run away from the various ghouls and creepy crawlies that are after you.
In your inventory, you can tap an item and get a pop up menu of commands that let you take actions: examine, drop, touch, and read, for example. You can also tape the book shaped icon to bring up a scrolling menu of all possible commands and objects. This almost feels like cheating, but it does make the game go a bit faster. The only thing that's tough are the banner ads: they really do detract from the look of the game.
Conclusion and download link
Like retro games? Transylvania Adventure Lite is gonna be right up your alley. The original Apple II graphics are so charming and evocative, and the soundscape is really very high quality. This game has been well-optimized for iOS, and it's a ton of fun. Whether you want to relive your childhood or show your own kids what video games used to look like, this classic is worth checking out.
Price: Free
Version reviewed: 1.2
Supported OS: Requires iOS 3.0 or later

Download size: 13.2 MB
Transylvania Adventure Lite on Apple App Store
Related Posts