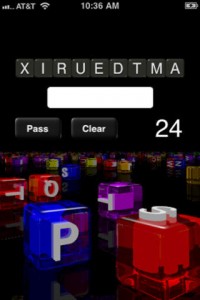 Brain training games have been in vogue for several years now, and the trend shows no signs of slowing down. Casual games that keep your mind alert and plastic are thought to help stave off dementia and age-related mental decay. Plus, they're just tons of fun to play! If you want to boost your language and word-building abilities, a game like Conundra may be exactly the sort of "brain trainer" that you'd be interested in.
What is it and what does it do
Main Functionality
Developed by Sarah Pierce / Megafauna Software, Conundra is a "brain training word game" for iOS devices. There is a related game, Conundra Math, that trains number skills instead of word skills.
Pros
Excellent interface
Great for both kids and adults
Promotes problem-solving and language skills
Includes cool "brain training" features like long-term score tracking and performance tracking to see how your score varies by time of day
Developers suggest that regularly playing this game can boost your skills in games like Boggle or Scrabble
Multiple levels of difficulty
Cons
Only works in portrait orientation
Annoying banner ads
There are multiple modes of difficulty (easy, medium, hard, expert), but not many levels of difficulty in terms of simple word length. Your words will either be 6-7 letters long, or 8-10 letters long.
Discussion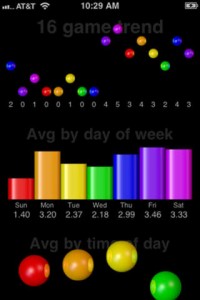 The controls for conundra are what make this game really work. Basically, you can either "shuffle" the letters around before making your guess, or you can move tiles around a bit, swapping them in a linear sort of way. If you give up at any time, you can hit the "pass" button for a new word, or the "home" button to go back to the main menu.
There is, however, a not insignificant portion of me that wishes I could play this game in landscape mode, with each letter tile capable of being moved about the screen independently. Being able to move tiles all over the screen, clustering them together or placing some off to the side…that would be truly ideal. An interface that truly mimicked the experience of moving tiles on a tabletop.
Conundra is a great brainteaser of a word game. I particularly like how you can select multiple modes of difficulty, or see how your mental performance changes based on the time of day. If you're trying to be more self-aware about developing your mental faculties, this app gives you both gaming and analysis to look forward to.
Conclusion and download link
If you're actively trying to do brain training (or if you just love word-based puzzles), then Conundra is really quite a lot of fun. There's a large library of words, a decent interface, and tons of replay value. For word puzzle fans, this is pretty much a must-play iOS gaming title. There are tons of other word-based puzzle games on iOS that have bigger followings….but what is great about this little game is the fact that Conundra makes you better at every other word game you play!
Price: Free
Version reviewed: 1.7
Supported OS: Requires iOS 4.0 or later.

Download size: 15.0 MB
Conundra on Apple App Store
Related Posts