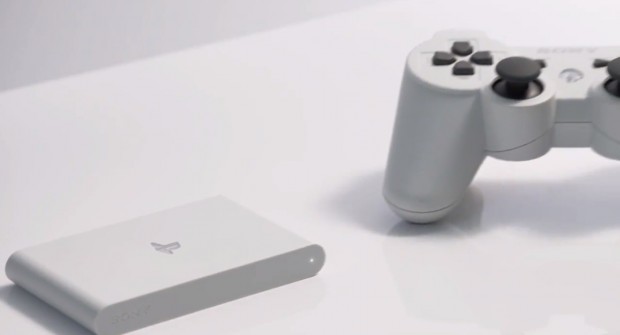 At a press conference in Tokyo today, Sony made a number of announcements regarding the PlayStation ecosystem. Among them was a new, thinner and lighter version of its gaming handled, the PS Vita. But what was definitely the biggest announcement was saved for the end: PS Vita TV.
The PS Vita TV is basically Sony's answer to the Apple TV or the Roku Box. Its an inexpensive piece of hardware (around $100 estimated), that can stream all your music and video services to your television like Hulu or Music Unlimited. But here's where it gets really interesting. The PS Vita can not only play all Vita games, making it a very cheap gaming console, but it can also stream PS4 games from a PS4. This means that you can have a PS4 hooked up in your living room, but play all its games through the PS Vita TV all the way over in your bedroom. This makes it easier and cheaper to have multiple consoles in every room — just buy a PS Vita TV instead of another PS4.
The PS Vita TV has a memory card slot, a Vita game card slot, a USB 2.0 port and can output up to 1080i. The PS Vita will be available in Japan on Nov. 14. for 9,480 yen (around $100).
[via Polygon]
Related Posts