Paragon is running a 2 day promotion (ends November 29, 2009) giving away their Total Defrag 2010 software for free: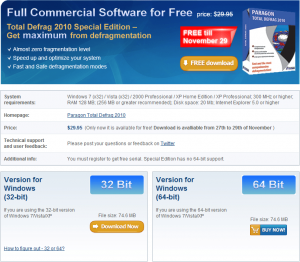 The freebie is for 32-bit users only. If you don't know what Paragon Total Defrag 2010 is, would like to learn more about the product, or want to know what I think of it, read my full review on Paragon Total Defrag 2010. Otherwise, here are the links to get it for free:
Version being given away for free: v2010 Build 8713 (05.08.09)

Supported OS: Windows 7 (x32) / Vista (x32) / 2000 Professional / XP Home Edition / XP Professional
Thanks karen!
Related Posts