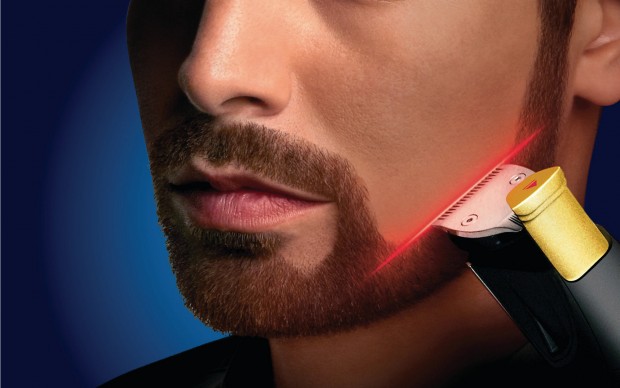 A man going to the barber to have his beard and mustache trimmed is so old school these days. The best course of action is to do it yourself with a decent beard trimmer, but what if you are not competent enough to keep your hands straight while trimming? That's where the StyleXpert Beardtrimmer 9000 comes into play.
It's a beard trimmer with an interesting twist, one that you might not have expected. You see, this bad boy comes packed with a laser of all things, and it is designed to help the user perform a straight cut. Now, before you begin to lose your mind in earnest, this is not Star Wars type of laser, it's just a mere pointer laser so you won't lose a piece of your face during the trimming process.
The StyleXpert Beardtrimmer 9000 is a $100 rechargeable device with cutting head that comes with 17 different length settings, and an hour worth of use after going through a fast 1 hour charge. Furthermore, you'll get the same 1 hour use whether or not the laser comes into play, which is pretty neat in our eyes.
Additionally, this baby is waterproof so you can use it practically clean this thing under a faucet without worry too much about damaging the device.
The video below shows this trimmer:
Without the laser, the StyleXpert Beardtrimmer 9000 would have just been a typical supermarket beard trimmer. This is solid proof that lasers make everything awesome; we should probably create a documentary on this new found phenomenon.
[viaPhilips USA]
Related Posts