Many dotTechies are familiar with Ashampoo Photo Commander because I have posted before on how to get Ashampoo Photo Commander 6 for free in the past. For those that don't know, here is a description from the developer's website:
Ashampoo Photo Commander 6 is a perfect example of a new generation of programs that are genuinely intuitive easy to use. It makes organizing your pictures and getting them to look great as simple as pressing the button on your camera. You'll save time, have a barrel of fun and your friends and family will be really impressed.

Almost everything is done with a couple of clicks – adding picture frames, correcting your photos, making greeting cards, collages and slide shows, sharing your pictures on CDs/DVDs or your website and much more.

Ashampoo Photo Commander 6 is a one-stop solution. You organize and view your photo collection, edit and enhance your photos and use creative editing and project tools all in a single program. And it also manages your audio and video files!
It seems like the earlier freebie of Ashampoo Photo Commander 6 I talked about is of v6.40. v3.co.uk is running a promotion allowing people to get v6.50 for free. So I decided I should repost about it. To get Ashampoo Photo Commander v6.5 for free, follow these simple directions: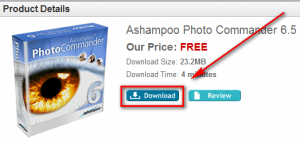 Install it after it has finished downloading. If you have an older version of Ashampoo Photo Commander installed, you can just install over it.
After installation has finished the registration page should open in your web browser: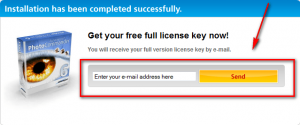 Enter your e-mail address and hit the "Send" button. If you entered an e-mail already registered with Ashampoo, you will have to enter your password.

Take note when you register, you are automatically signed up for Ashampoo's regular e-mail newsletters. If you don't want the newsletters, you can manually unsubscribe from these newsletters after you registered by logging in via MyAshampoo, going to "Subscribe service letters", and unchecking the ones you don't want.
Check the inbox of the e-mail you entered. There should be an email from "Ashampoo <MrReg@ashampoo.com>" with the subject of "

Your registration – Ashampoo® Photo Commander 6 (F_vnu_gb) (English (UK£))

". In the e-mail you will find your activation key:
If the e-mail you entered has not been used with Ashampoo before, you will first have to verify your account before you get the above mentioned e-mail. In this case, you will have an e-mail from "Ashampoo <MrReg@ashampoo.com>" with the subject of "Registration (Step 1) … follow the link in this email to go on." In the e-mail there will be a link you have to click on to confirm your account:

Click on the link. Then go back to your inbox to look for the e-mail that has the activation key.
If you still have Ashampoo Photo Commander 6 running, go back to it. If you don't have it running, open it. You should see something like this:

Hit "Cancel".
Then you should see this window:
Hit "Close".
Go to Internet -> "Switch to Full Version For Free…":
This window should popup:

Press "Enter the code you received". In the following dialog box, it will ask you to enter your code. Copy and paste your code into there and hit OK. You should get a message confirming that your code has been accepted.
If you have any trouble getting it, post below and I will try to help.
Thanks Ozzie!
Related Posts