Aside from the fact they are usually 100+ MB in file size, a topic about a Paragon freebie is always welcome on dotTech. So, without further delay let me tell everyone Chip.de is running a promotion of Paragon Partition Manager 10 Personal for free! If you want to know more about Paragon Partition Manager 10 Personal and find out what I think about it, feel free to read my full review. Otherwise, you can grab Paragon Partition Manager 10 Personal by following these simple steps:
UPDATE: It seems like this Paragon Partition Manager 10 Personal is in German. I am working on a way to get it in English. I will update if I find a way.
Visit the promotion page and click .
At the next page, click on
If you already have an account with Softwareload.de, login; otherwise you will have to register: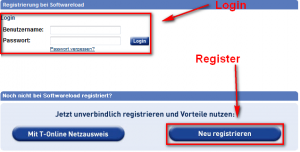 If registering, you will need to fill out a form:
Note that I only translated the required form fields. The rest of them are optional so you don't have to fill them in. Also note your password must be 8 characters or longer and the answer to your security question must be 6 characters or longer.

I don't know if Softwareload.de spams or not so feel free to make use of Mailinator, 10MinuteMail, or Trashmail if you wish.
After you have hit "Registrieren" button you will get a confirmation page telling you to check your e-mail. So, go to your e-mail that you registered with and look for an e-mail from "support@softwareload.de" with the subject of "Bitte bestätigen Sie Ihre Anmeldung bei Softwareload". There will be a link in there:
Either click on the link or copy and paste the URL in your browser. At the page that loads up, let it finish loading until you reach a page that asks you for your username and password. Login.
Once you are logged in, regardless of if you newly registered or used an old account, you will be asked to "pay" for the software; however this is a freebie so you don't have to pay. Just select the "T-Pay" option and enter in ChipXmasPx9uU5vG: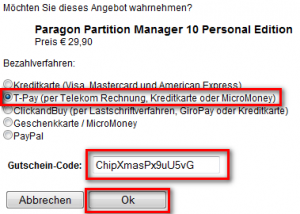 The next page will give you your registration information and download link: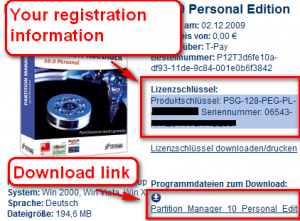 Copy the registration information and download the software (it is 194.6 MB).
After you have downloaded the software install it. During installation you will be prompted to enter in your registration information. The "Produktschussel" code goes in the "Product Key" box and the "Seriennummber" code goes in the "Serial Key" box.
Finish installing the software and enjoy!
If you have any trouble getting it, post below I will try to help.
Related Posts