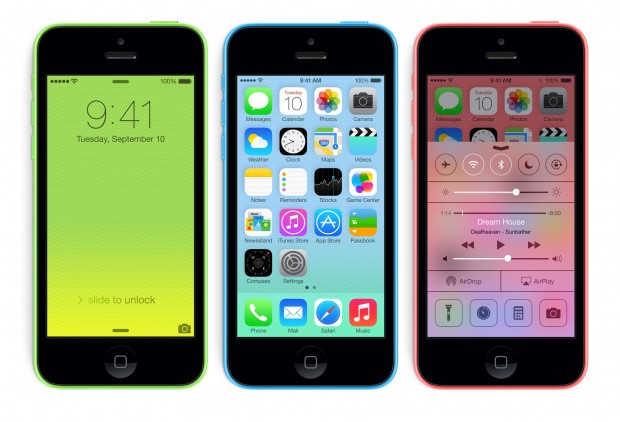 Apple's latest iPhones are almost here. But before the public gets their hands on the newest iPhones, reviewers from around the web have been using and testing the phones for more than a week. Right before we tell you what they think, here's a quick overview of the iPhone 5c:
The iPhone 5c is one of Apple's two new iPhones. Its specs are mostly identical to the previous model, the iPhone 5, save for a slightly larger battery and an improved front-facing camera. The real difference comes in the design and appearance of the phone. For the first time, the iPhone will be available in a bunch of colors.There's green, blue, yellow, pink and white. And with official colored cases being released that are designed to complement the colors, there are close to fifty combinations possible for the iPhone 5c. It's also cheaper than previous "new" iPhones, coming in at $99 on a standard two year contract.
We're not going to lie. The iPhone 5c is gorgeous — we'd even argue that it's the most beautiful iPhone since the 4 and 4s. It instantly makes the iPhone 5 and 5s look staid in comparison. Sure, we prefer materials like aluminum and glass over plastic, and we appreciate the intricate craftsmanship that goes into building the iPhone 5 and 5s, but still, we can't help it — the 5c just triggers some reptilian part of our brains that screams, "OMG, color!" It brings a breath of fresh air to the iPhone lineup and will appeal to consumers at an emotional level.
To date, Apple's choice of materials has been one of its prime differentiating factors, at least from an aesthetics point of view, vs. the Android crop of competitors. So does dipping back into a polycarbonate shell threaten the image Apple has tried so hard to cultivate?

The answer is a resounding 'No.' Apple notes that the iPhone 5c is actually polycarbonate because it wanted to get the colors just right, and doing so in metal just wasn't feasible. Further, it points out that there's a steel frame (which doubles as an antenna) girding that polycarbonate shell, which results in a phone that feels sturdy in the hand, without the flex or perceived fragility of other plastic device designs.
It's just slightly thicker and heavier than the iPhone 5. And while the 5C isn't as refined-looking as the iPhone 5 or the new 5S, it isn't a tacky plastic phone, either. I've tested plastic phones before, including the Samsung Galaxy S4 and the new Moto X from Motorola, and this phone feels more solid in the hand.
In practice, we saw better [battery] performance than we did on last year's iPhone 5. With typical use – push email turned on, some multimedia playback, use of the camera, nearly an hour of GPS navigation, and some browsing over both LTE and WiFi – we still ended the day with charge to spare. The iPhone 5c may lack the frugal M7 coprocessor Apple introduced with the iPhone 5s, but whether it's iOS 7?s optimizations, the new 4G radios, what's believed to be a slightly larger battery, or some combination of the three, we're now far more confident about spending a day out of reach of a Lightning charger cable
So basically, it seems that despite going with material that is usually associated with cheaper-looking or feeling phones, Apple was able to make the iPhone 5c look and feel good at the same time. For iPhone users that might not be very happy with the battery life they're experiencing, the iPhone 5c also appears to have improved on that front as well. But with the same specs as the iPhone 5, it will probably come down to whether you're looking to shave off a few bucks from your purchase, or are looking for a more colorful iPhone to change it up.
Related Posts