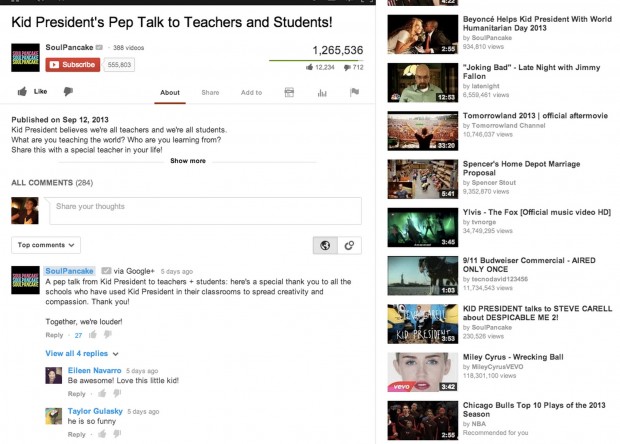 The comments on YouTube are known to be some of the most inappropriate, insulting and immature comments in all of the web. Thankfully, YouTube knows it and will try to fix the problem by rolling out a new comments system powered by Google+.
The most obvious change this would bring would be the fact that many comments will become less anonymous, with many accounts tied to actual names and profiles. While it will certainly upset people that prefer to comment anonymously, those people will still have the option of signing up with a pseudonym when they create a Google+ account.
The changes don't stop there, either, as YouTube also wants to make sure that the conversations you see alongside videos are ones you care about. Currently, comments on videos can be sectioned off in three ways: Comments by the uploader show up on top, followed by the most upvoted comments then all the comments, with the most recent always on top of the third section. The new system will give comments from the video's creator, popular personalities, and people in your Google+ a better chance of rising to the top. The more engaging discussions on a video will also be displayed more prominently, with an easier way of viewing the entire conversation.
Another nice little addition is the ability to start discussions publicly or privately, so you can talk about particular videos with one of your Google+ circles.
The new system will begin rolling out this week, and it'll be available on all videos by the end of this year.
[via YouTube]
Related Posts