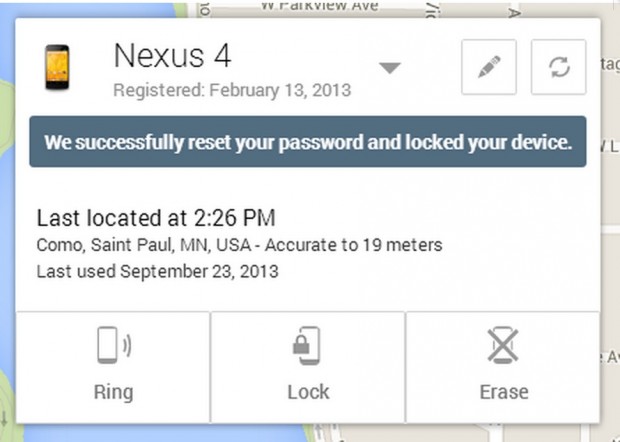 Android Device Manager launched last month with the ability to track or remotely wipe misplaced or stolen smartphones or tablets through the web. Now, Google has added the crucial functionality of being able to lock down your phone remotely.
When using Android Device Manager (which is accessible via the web on any modern internet browser), you can select your Android smartphone or tablet (must be running Android 2.2 or higher), and reset your password and lock your device; you can also track it, ring it, or wipe the data off it. When locking, the phone or tablet will be locked even if it is being used, and the lock will push through as long as the device is connected to WiFi or a cellular network. If the device is placed in Airplane mode or turned off or doesn't have active access to the internet via WiFi or cellular network, the lock will take effect the moment the device reestablishes connectivity.
With the ability to track, wipe, and now lock down your phone, the Android Device Manager should prove to be an invaluable tool for every Android user. Sure there have been tools like this available on Android for years, but all those tools were by third-party developers. This is by Google themselves and is now a core feature of the Android operating system.
You can access the Android Device Manager tool from right here.
[via Android Device Manager, The Verge]
Related Posts