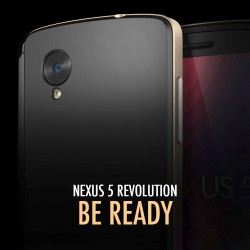 After many leaks of the widely anticipated phone from Google, another photo of the Nexus 5 has been posted by the case-maker SPIGEN on its Google+ account and tagged it with #google and #nexus5.
The photo shows the back of the device which features a 8-megapixel camera with OIS and a LED flash. You can also see the front of the phone slightly out of focus which is expected to be a 4.95-inch IPS TFT 1080p display. The phone is expected to be powered by a 2.3 GHz quad-core Snapdragon 800 processor with 2GB of RAM, a 1.3MP front camera and is most likely to run on the latest Android 4.4 KitKat OS. The phone is also expected to come in two storage variants of 16GB and 32GB respectively coupled with a 2300 mAh battery with wireless charging support. It is also said to feature LTE and NFC on the connectivity front.
There is also a gold colored frame in the photo which could be just a case. The phone is likely to be priced at $299 for the 16GB and $399 for the 32GB version. Earlier reports indicated that the Nexus 5 will launch on October 30th, but the recent rumors suggest it might be launched as early as next week, most likely on 15th October.
Let's hope it launches as early as possible and till then we must wait for the official announcement by Google.
[via SPIGEN]
Related Posts