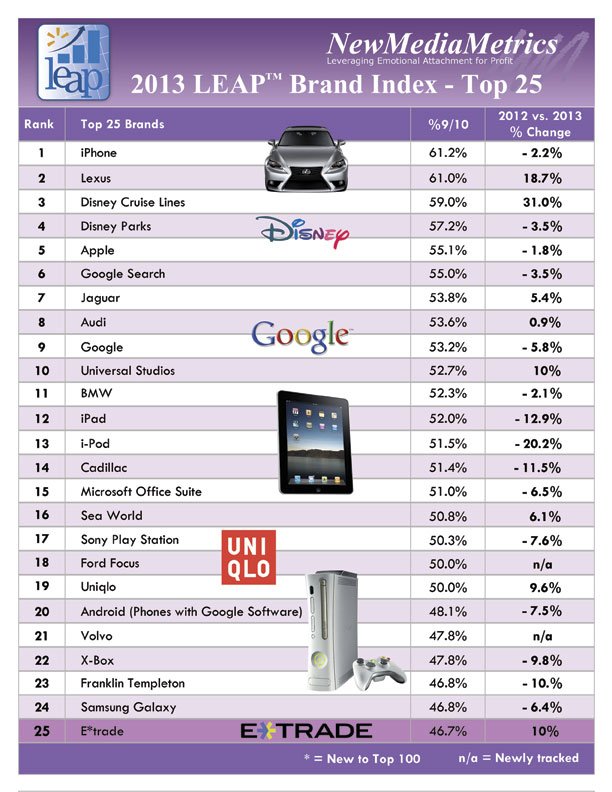 You might not have guessed it, but out of the 25 most loved brands in America, several of them are from the tech industry. NewMediaMetrics has released the results of its yearly LEAP survey where it listed the top 25 loved brands in the United States. Surprisingly enough, McDonald's is nowhere to be found on the list — but Apple is featured multiple times, thanks to its different products.
At the number 1 spot sits the iPhone, which comes as no surprise since the iPhone is the most popular smartphone in America. At number 5 we have Apple followed by Google Search at number 6. While we were expecting Google Search to be ahead of Apple, it all began to make sense when you realize the backlash felt by web 2.0 companies thanks to the NSA.
Google itself sits strongly at number 9; the iPad and iPod are at number 12 and 13 respectively, while Microsoft Office dabbles in the number 15 position.
Video game consoles also made the cut as the Sony PlayStation takes control of the 17th spot, while the Microsoft Xbox brand holds tight to 22nd position.
As expected, the Samsung Galaxy brand is on the list, though it is way at the bottom in the 24th position. Above the Galaxy, Android smartphones with Google software installed sit comfortably at position number 20.
It's great to see tech companies rising to the occasion in this manner. Now, we'd definitely love to know how things stack up for these brands on a global perspective. Our guess is Samsung, Google, and Android will be higher in the list than Apple if surveyed worldwide.
[via Venturebeat]
Related Posts