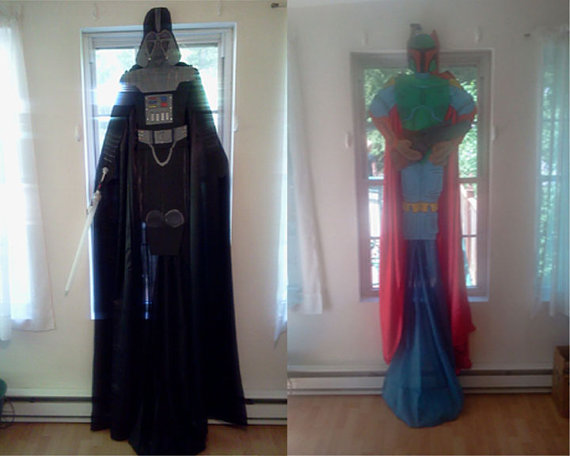 If you're a true geek, then by now you'll be tired of looking at those boring curtains at your window. They do nothing for you and only stand to make you angry. Well, how about changing those old curtains with a Darth Vader or Boba Fett Star Wars character curtain?
Waking up in the mornings and seeing a Star Wars character standing at your window is way better than that dull traditional window curtain. Plus, it looks great and you'll certainly feel more energized with the force going through your veins.
Obviously, Darth Vader looks the more awesome here, especially when backlit in sunlight. A night time, we're guessing Darth Vader would be a scary figure to children, but for us geeks, we'd be freaking out. Boba Fett on the other hand, looks the business as usual as if he's at your window to collect a bounty. You better hide yourself because this bounty hunter doesn't miss his target.
We know you'd love to own of these or even both, and you can. Etsy artist CanCreate will sell you both curtains together for $100. It's a good deal since it is hand crafted by a single person, and the characters come off as looking super awesome.
For folks who are not interested in Star Wars, there are other character curtains here to go crazy for, such as Superman, Harry Potter and several others.
[via Etsy]
Related Posts