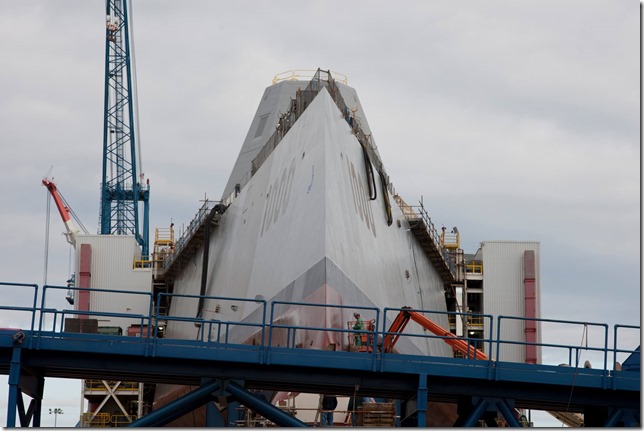 The United States Navy is packing a new warship called the USS Zumwalt (DDG 1000) that is designed for firepower, stealth and durability. The price tag on such a machine is around $3.5 billion, but that's not what's truly exciting about this battleship. You see; at the heart of the USS Zumwalt lies a virtual data center that is powered by off the shelf hardware and several different flavors of Linux and 6 million lines of software codes. Yes, you're not going blind; this bad boy is indeed Linux powered.
According to Ars Technica, the Navy wasn't able to add off the shelf computer components to a warship in the past, but all that has changed with the Zumwalt. The hardware in the ship is mostly made up of IBM Blade servers running Red Hat Linux, which is housed in a ruggedized server room. The ruggedized server room is called Electronic Modular Enclosures (EMEs), which is basically sixteen self contained mini data centers, built by Raytheon.
For those unaware, Raytheon is a major American defense contractor, established back in 1922.
We understand the 16 EMEs have more than 235 equipment cabinets. Furthermore, the approach in using EMEs have lowered cost of the hardware, which allows Raytheon to pre-integrate systems before they're installed.
"It costs a lot to do the work in the shipyard," said Raytheon's DDG-1000 deputy program manager Tom Moore, "and we get limited time of access."
The Zumwalt also comes packed with wireless networking, though Raytheon officials were hesitant in sharing more details about it.
In our eyes, it comes as no surprise to see Linux being incorporated into a Navy vessel. Before long, Linux will rise to be the central system a part of many Army related equipment, as it would be likely less expensive than deploying a proprietary system.
[via Ars Technica]
Related Posts