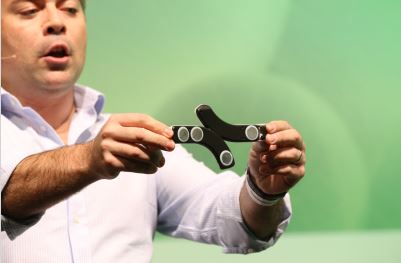 Patients suffering from cardiac diseases such as heart attacks and strokes may soon have a new way to relay information to their doctors. The QardioCore is a device that will help to monitor you and can then transmit the information directly to your doctor. What does this mean? You can wear your device all day and allow your doctor to take ECG telemetry while you do your normal activities. This can help him diagnose issues quicker and more definitively.
There are monitoring devices out now. You wear them for two or three days while you do normal activities and take the results back to your doctor who tries to analyze what you did in the past 48 to 72 hours. He can still see where there may be heart problems during strenuous activities but it is hours if not days after the fact. With the Qardio device he'll know immediately. That immediate knowledge could be enough to save a person's life.
One of the best things about this product is that you don't have to prep your skin to use it. Older devices require leads attached with adhesive and men would have to shave their chests. This device attaches to your chest. Once in place the device switches itself on and begins the wirelessly transmitting data.
The creators of the QardioCore expect this device to be available on the market sometime next year at a reasonable price, $449. If you are only concerned about blood pressure the company has developed the QardioArm which monitors blood pressure the same way and also sends the results wirelessly to your doctor. The QardioArm is also set to be released next year and will cost around $99.
[via Techcrunch]
Related Posts