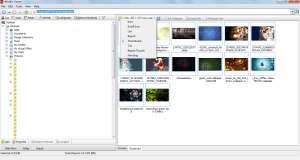 Have you ever considered using another image viewer aside from the one that you already have on your computer? If so, then you might want to try this feature-rich image viewer for Windows called WildBit Viewer. So let's find out if this software has what it takes to meet your standards.
What Is It and What Does It Do
Main Functionality
WildBit Viewer is a feature-rich image viewer with a user interface that closely resembles the style of Windows Explorer. With this software, you can view your image files in different viewing modes and you can even load them as a slideshow. What's great about this tool is that it does not only function as an image viewer. You can also use it to edit your images. It also features an advanced search tool that you can use to search and locate your files and folders.
After launching WildBit Viewer from your program list, all you need to do is to browse through your file directory. Select the folder where you saved your images then simply switch from Preview to Thumbview. If you choose Preview, then you can view your images separately and in full view. To zoom the image, just drag the zoom bar from left to right or vice versa. If you choose Thumbview, then all of the images in your folder will be loaded. This is great especially if you want to multi-select your image files before transferring them into a different file directory or folder.
If you want to create a slideshow out of your photos, simply click the Slide Show button in the toolbar. You can also select the Editor to quickly edit your images. If you want to search for a particular image file, simply click the button for Search.
Pros
Neat and well-designed Explorer style user interface
User-friendly, very responsive and stable
Supports almost all types of image formats such as .JPG, .JPEG, .GIF, .TIF, .PNG, .PSD, .BMP, .ICO, .PPM, .WBMP, .CUR, .PCX, .DCX and a whole lot more
You can change the viewing mode to Preview or Thumbview – In Thumbview, you can set the viewing mode to icon, small icon, list, report, thumbnails, tile, report thumb and filmstrip. You can also switch from compact view to expanded view.
You can view the Image Info in just one click. There's a also a button that lets you set any of your images as wallpaper
Has a built-in photo editor and slideshow creator
Features an advanced search tool for searching specific types of images and photos
You can add any of your images to Favorites. You can also batch rename your images
You can add any folder to the shell toolbar. You can also copy, cut, move, paste and rotate your image files just like the way you do in Windows Explorer
Has a portable version
Cons
None that I can think of except for the fact it doesn't let me use the arrow keys to toggle between the previous image and the next image (Preview Mode)
Discussion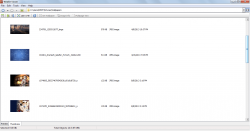 WildBit Viewer has four basic features that you cannot easily find on other image viewers. First of all, it's an image viewer. It lets you view your image files in different viewing modes plus it features a responsive and stable UI that closely resembles the style of Windows Explorer. Furthermore, the file directory is already integrated in its user interface so there's no need for you to open another program. Just find or select the photo(s) that you like to view or open from the file directory and that's it!
What I really like about WildBit Viewer is that it has all the features and options that you need to view and manage your image files. As a matter of fact, it also has a built-in image editor that you can use to quickly edit your images or photos. The editor itself is very reliable and it can even apply a wide range of effects to your images. You can also use it to crop or resize your images.
In addition, this software also features a slideshow tool. Just like any other slideshow software, this tool can automatically turn your photos into slideshows. The slideshow tool itself can be customized according to your own preferences plus you can set its viewing mode into full screen.
Meanwhile, the WildBit Viewer advanced search tool can work as a separate application so it makes it easier for you to search for specific image files. Aside from this, the software supports almost all types of image formats and you can also do the usual things that you do while viewing your photos using your computer's default image viewer. You can copy, cut, paste and rotate your image files. There's also a zoom function. Another notable feature of this software is that you can use it to "batch rename" your image files. This option is quite useful especially if you are dealing with multiple files.
All in all, I could say that WildBit Viewer is a very good image viewer. It has all the features that you want in an image viewer plus it also has a built-in editor and slideshow creator. The only thing that I do not like about this software is the fact that it doesn't allow me to use the arrow keys on my keyboard to toggle between the previous and the next image. This usually happens when I set the image viewer to Expanded View while it's on Preview mode.
Conclusion and Download Link
WildBit Viewer is a great image viewer and I highly recommend it to anyone who is currently looking for a reliable and feature-rich image viewer. As a matter of fact, it's more than just an image viewer; it is an all-in-one image management software that is truly worth checking out. So check it out. And be sure to also read dotTech's review on best free image viewers for Windows.
Price: Free
Version reviewed: 6.0
Supported OS: Windows XP, Vista, 7 and 8
Download size: 13.2MB
VirusTotal malware scan results: 0/47
Is it portable? Yes
Related Posts