This article was originally written last year. However, SoftMaker is once again giving out SoftMaker Office 2008 for free this year – until December 31, 2010 – so I have brought this post to the front instead of writing a whole new post. People who didn't get it last year can get it now. Enjoy! Thanks Amnesia for the tip!
In October I posted about how to get Ashampoo Office 2008 for free. SoftMaker Office 2008 is the exact same software as Ashampoo Office 2008 (Ashampoo Office is a rebrand of SoftMaker Office) with one difference: SoftMaker 2008 includes BasicMaker while Ashampoo Office did not. So for those that don't have Microsoft Office and don't want OpenOffice, yet did not get Ashampoo Office 2008, here is a chance to grab SoftMaker Office 2008 for free (promotion ends December 31, 2009). Even if you do have Ashampoo Office 2008, you may want to consider getting SoftMaker Office 2008 anyway because of the extra BasicMaker software. Plus there is a twist: for every download of SoftMaker Office 2008, SoftMaker will donate € 0.10 (about $.15) to BetterPlace.org, a charity organization (NOTE: The money will only be donated if you register with a valid e-mail address – you can't just download the installer itself). Another advantage is everyone that downloads SoftMaker Office 2008 via this promotion gets free tech support and future SoftMaker Office upgrades at reduced prices.
The same features (+ BasicMaker)…
TextMaker 2008 (word processing; think Microsoft Word or OpenOffice Write)
SoftMaker Presentations 2008 (create powerpoint presentations; think Microsoft PowerPoint or OpenOffice Impress)
PlanMaker 2008 (work with spreadsheets; think Microsoft Excel or OpenOffice Calc)
BasicMaker 2008 (allows for users to create scripts in the SoftMaker Basic programming languages – similar to how VBA is for Microsoft Office)
…and advantages…
SoftMaker Office 2008 has a very small footprint, (taking up less than 80 MB on your hard drive after installation and uses 1/4 the RAM of Microsoft Office while running).
SoftMaker has native support to run SoftMaker Office 2008 from a USB/flash drive (to run SoftMaker Office 2008 from a USB/flash drive, run "usbstick.exe" found in the folder you installed SoftMaker Office into [by default it will be C:\Program Files\SoftMaker Office 2008]).
Importing and exporting Microsoft Office and OpenOffice format files in SoftMaker Office 2008 is a breeze.
…I mentioned for Ashampoo Office 2008 apply to SoftMaker Office 2008. At the same time, the shortcomings are the same also: SoftMaker Office 2008 does not support the new Microsoft Office 2007 generation .x formats (like .docx, .pptx, .xlsx, etc.).
As I said with Ashampoo Office 2008, SoftMaker Office 2008 will not be replacing Microsoft Office or OpenOffice any time soon, but it is definitely a worthy alternative to look into if you are lacking in the productivity suite genre.
That being said, to get SoftMaker Office 2008 for free (and help out a charity at the same time), follow these simple directions:
Version being given out for free: v2008 (rev 505)

Supported OS: Windows 2000 or higher and Linux


Download size: 58.9 MB

Visit the promotion page and click on .
You will need to fill out a short form: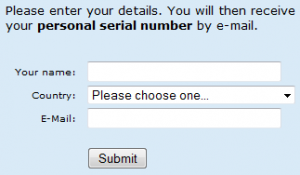 Fill out the form and click "Submit". You will get a confirmation message:
Check the inbox of the e-mail you registered with. There will be an e-mail from "SoftMaker Software GmbH <info@softmaker.de>" with the subject of "SoftMaker Office 2008 for Windows: Serial number and download".

In the e-mail you will find your registration information: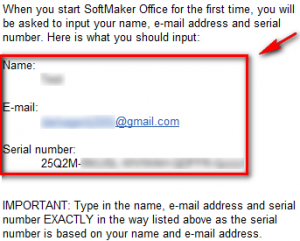 Copy the serial number and remember the name and e-mail address.

Download and install SoftMaker Office 2008.
During installation you will be prompted to enter your registration information: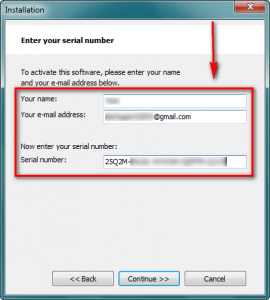 Enter your registration information and finish installing. Be sure to enter the registration information exactly as it appears in the e-mail you received or else it won't work.
If you have any problems, post below and I will try to help.
Thank you to the numerous many people who informed me about this freebie! I was not originally planning on publishing an article about this – because I already talked about Ashampoo Office 2008 – but the donation-of-money-to-charity changed my mind.

Related Posts