Software Description
The following is a description of Steganos Privacy Suite 12, as per the developer:
Features
256 Bit AES

Uses an uncrackable (and world renowned) 256 Bit AES security algorithm.

Data safes that REALLY fit everything

Holds up to 1000 GB of storage. Data safe size can be user defined and easily adjusted with intuitive controls. Create as many encrypted data safes as needed to store photos, audio files, movies, documents and more. Automatic safe shut down when user logs out or when computer sleeps.

Steganos Portable Safe™ makes mobile data safe on the go

Turns USB sticks, mobile phones, iPods®, CDs, and DVDs into handy data safes that can be accessed on other systems — without extra software!

100% data delete with Steganos Shredder™

Performs permanent and unrecoverable data delete operations with Steganos Shredder™. Shreds data on hard drives and external storage media such as USB sticks, rewritable CDs, DVDs, and memory cards. Uses a drive friendly incremental shredder to save time. Free Space Shredder allows user defined free space shred commands on drives. And a trash shredder reliably and completely disposes of data in trash bins.

Automatically erases digital footprint

Removes traces left behind while browsing or working on PCs — fully automatically. SteganosTraceDestructor ensures work documents and last visited web sites can't be spied out.

Easy-as-pie password management

Keeps all user passwords on-hand and automatically completes forms on websites like Amazon and ebay. Individual categories and special fields capture useful information to organize passwords. Steganos Password Manager™ can create individual profile setups for multiple users, and it also allows private and office profile accounts.

Password security check for the safest codes

Grades and provides feedback on password strength for keyed in passwords. Multilingual dictionary instantly flags and warns user about unsafe passwords.

Open your Safe your way

Allows manual access to data safes using a USB stick, PDA, memory card, digicam, or iPod; visual access to data safes using a series of pictures or opens data safes automatically with an ActiveSync enabled mobile phone with bluetooth. Once the bluetooth device is out of range, the safe closes automatically.

Private favorites stay private

Stores your favorite websites in a password protected favorites list. Includes plugins for Internet Explorer and Mozilla Firefox.

Faster and faster! Supports hotkey, automatic login and drag-and-drop

Supports shortcuts — and desktop shortcuts — to quickly open and close data safes. Allows drag-and-drop to copy and move information easily to data safes. And lets users automatically start a safe and applications with login.

Encrypt e-mails the easy way

Sends encrypted e-mails with a click of a mouse. E-mail recipient only needs a password, and the message decrypts itself automatically. No additional software to install.

Open Sesame with Steganos PicPass

Lets users access data safes by selecting a series of images as a password, eliminating the need to memorize long and complicated passwords.

Steganography

Hides sensitive data in pictures and audio files. No one will discover the encrypted data hidden in these files.
Please note the above software description is of Steganos Privacy Suite 12. Steganos Privacy Suite 11 is an older version and I couldn't find a features list specifically for it. I don't know the specific changes between v11 and v12 but it seems like most/all the features mentioned in the features list of v12 are in v11.
dotTech Advice
Steganos Privacy Suite 11 can be thought of as a program that contains multiple other programs, i.e. a suite of programs. Taking a quick look at Steganos Privacy Suite 11, it has the following capabilities:
A "safe" that allows you to securely store data;
The ability to create a portable version of the just-mentioned "safe";
The ability to encrypt individual files;
The ability to hide encrypted files;
The ability to encrypt e-mail;
A password manager;
A "favorites" manager;
The ability to securely delete files;
The ability to protect your privacy by deleting browser data (IE 7/8, FF 2.x/3.x, and Opera 7/8.5/9), Windows-related temporary files/data, and Microsoft Office (2000/2003/2007) data.
Unfortunately I am not able to provide any recommendations regarding Steganos Security Suite 11 because of a strain on time today and the complexity of the program. In other words, I cannot vouch for the quality or lack thereof of Steganos Security Suite 11. I had to pick between either posting about this freebie without providing advice (because of a very busy schedule this week) or not posting about this freebie at all. I decided it is best to post about it and allow dotTechies to evaluate it as opposed to not posting about it at all.
I can, however, provide a list of very good alternative software, for anyone that is interested:
Freebie Details
To get Steganos Privacy Suite 11 for free, follow these simple directions:
Version being given out for free: v11.1.5 (Revision 9047)

Free updates: No

Supported OS: Windows XP and higher

Download size: 33.6 MB

Note: Unless specifically stated otherwise in this article, Steganos Privacy Security Suite 11 has not been tested or reviewed by dotTech (aside from ensuring that this giveaway is valid). All the information about the program in this post is based off the information provided on the developer's website. Please do not take this post as an endorsement/rejection or review of the program. This article is simply to inform about the availability of this program as a freebie; nothing more, nothing less.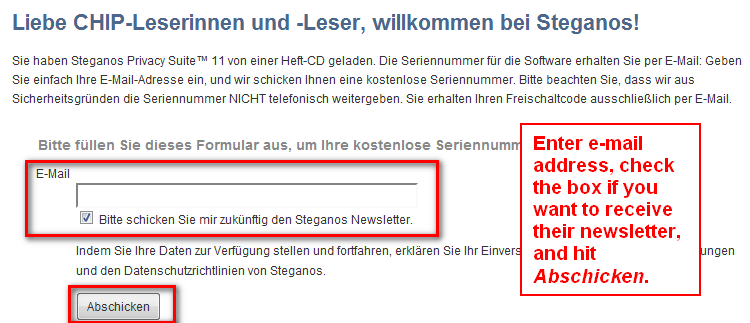 If you do it properly you should get a confirmation message:
Check the inbox of the e-mail address you registered with. Look for an e-mail from Steganos GmbH (no-reply@steganos.com) with the subject of Steganos Privacy Suite™ 11?. In the e-mail you will find your registration code:



After the download has finished, install Steganos Privacy Suite 11. (The installer and program are in English.)
After installation has finished, run any component of Steganos Privacy Suite 11. It does not matter if you run the password manager, the main menu, etc.; launching any component will allow you to register the program with the serial key you received via e-mail: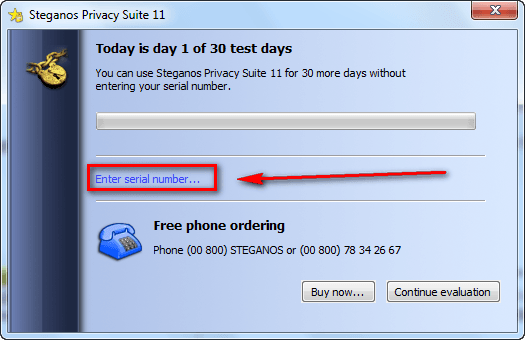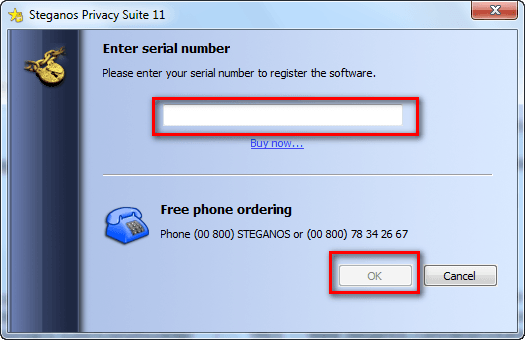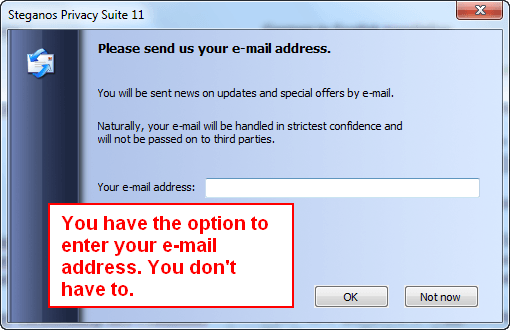 Once you get to the Please send us your e-mail address screen, you have successfully registered the program. After you get past the Please send us your e-mail address screen you can start using Steganos Privacy Suite 11. Enjoy!
If you have any trouble getting Steganos Privacy Suite 11 for free, post below and other dotTechies or I will try to help.
Related Posts