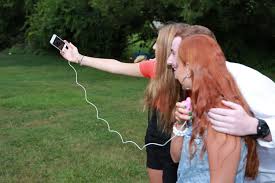 Selfies are the new hot buzz of 2013. They are something for which 2013 will be remembered. Labeled the "Word of the Year" by Oxford dictionaries evince how popular the word "Selfie" has become. From a Justin Bieber backed app for selfies coming to iOS and Android to the selfie specialist messaging service, Snapchat, receiving acquisition offers worth $3 billion and $4 billion, selfies have made people crazy and people have made selfies crazy.
Gabba Goods, a cell-phone accessory manufacturer, has made a product called "#TheSelfie" which relieves people of the irascibility of holding the camera awkwardly while taking the coveted selfie picture. For folks who don't know what a "selfie" is, selfie is a picture taken by a person of his or herself with a smartphone or webcam and uploaded to a social networking site.
The #TheSelfie looks like a remote control, or even better, a detonator. Instead of having to hold the camera awkwardly while taking a group or individual selfie, the cable of #TheSelfie is inserted into any Apple product, such as iPhone, iPad, or iPod, and at the right time for snapping the picture, the detonator-type button of #TheSelfie is pressed, and the picture is taken. The advantage of #TheSelfie is that the Apple product can be placed on a table or any surface, and the picture can be taken without having to hold the camera.
There are a number of colors that #TheSelfie comes is, and it only costs $19.99. Here is another of those crazy ones that make selfies crazy.
[via yahoo.com]
Related Posts