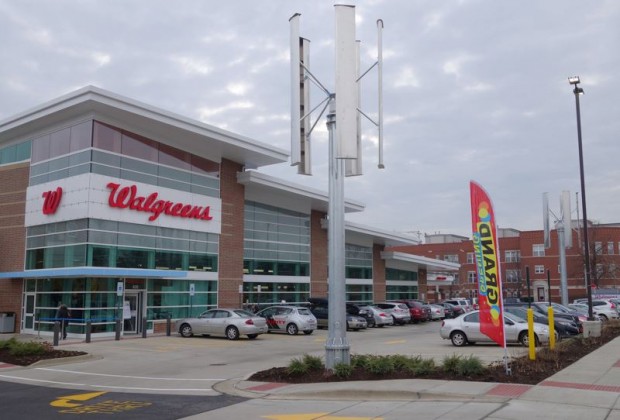 Walgreens is no off the grid. Well, at least one of its stores is. The new store is the first retail Walgreens store that generates all its own energy on-site, meaning it doesn't use the electricity provided from its local electric company.
The new eco-friendly Walgreens has 850 solar panels to provide 95 to 100 percent of all the energy the store needs. To help make up the difference the store also has two 35 foot wind turbines. The original plans called for more turbines but the designers soon discovered the solar panel output was higher than anticipated, providing almost all of the 200,000 wKh of energy a year the store requires." television panels break down where the energy is coming from, either solar, wind, or geothermal. The geothermal energy is used to heat or cool the store. The display also shows the outside temperature and the temperature in the store.
To light the store Walgreens is using blade-shaped LED lights. The shape of the lights help direct the light to the shelves instead of the floor. LED lights use less energy than traditional fluorescent lights. The store also has large windows that allow in natural lighting during the day.
The new store is located in Evanston, Illinois. As the pilot store, it is located close to Walgreen's headquarters and the Northwestern University.
"It's a proof of concept and a pilot. It's also our living learning lab. Everything in the store is monitored so that we can learn from it," Jason Robins, Walgreens' manager of engineering said about the new store.
[via The Verge]
Related Posts