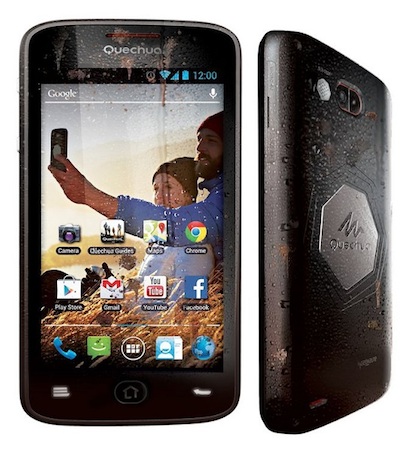 Quechua is famous for its outdoor and mountain clothing and equipment, but that did not hold the company back from competing in the smartphone industry. Quechua has an advantage for making smartphones in the outdoor and mountain travel niche, though, still the industry is not an easy one to compete in. Hot shots like Apple and Samsung have made life difficult for small cell phone vendors.
Quechua is collaborating with Archos, a french consumer electronics company, on the Quechua Phone. The phone is 5 inch long , has Android 4.1, and has all the common components that top-tier phones these days have. The phone has Qualcomm 1.2Ghz quad-core processor, IP54 certification, 4GB built-in memory accompanied by micro SD memory card, 1GB RAM and a 5 megapixel rear camera. The phone will cost roughly $310.
Whether the phone will be a success or a flat failure is yet to be seen, but what is worth noticing is that every tech company is joining the fight against Apple and Samsung.
[via engadget]
Related Posts