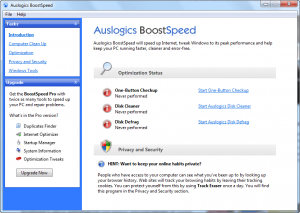 When most people hear "Auslogics" they probably think "defrag" – and for good reason. Auslogics is well known for its freeware and terrific Disk Defrag software. However, Auslogics Software is not limited to its defrag software; Auslogics develops many other types of software also. One of these other software is Auslogics BoostSpeed.
Auslogics BoostSpeed is Auslogics' version of a "system optimization" software like TuneUp Utilities, WinUtilities, jv16 PowerTools, Advanced SystemCare, etc. These are all the features of Auslogics BoostSpeed:

Although the freebie of Auslogics BoostSpeed 4 – which I am going to tell you about down below – does not contain all the features mentioned above (you need to purchase the latest version, Auslogics BoostSpeed (v4.5), to get all the features I just mentioned) that is an impressive list of features, no? Plus if one can make a conjecture of Auslogic quality based on Auslogics Disk Defrag, Ausgloics BoostSpeed is bound to be a winner.
Now, in terms of the freebie of Auslogics BoostSpeed 4, specifically you can expect for the following features to come with Auslogics BoostSpeed 4:
One-button Checkup
Rescue Center
Disk Cleaner
Registry Cleaner
Disk Defrag
Registry Defrag
Track Eraser
PC Security
Quick links to Microsoft DirectX Diagnostics, Windows Performance Monitor, Windows Service Manager, and Computer Management
To get Auslogics BoostSpeed 4 for free, follow these simple directions:
Version being given out for free: v4.0.0.37

Free updates: No

Supported OS: Windows 2000/XP/Vista/Win7

Download size: 4.4 MB
Visit the promotion page and click on "Try Now" to download Auslogics BoostSpeed 4: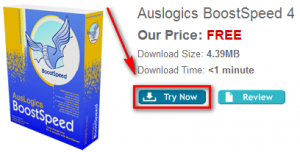 After the download has finished, unzip it, and install Auslogics BoostSpeed 4.
Enjoy! (There is no need to register – it comes "pre-registered".)
If you have trouble getting Auslogics BoostSpeed 4 for free, post below and I will try to help.
Related Posts