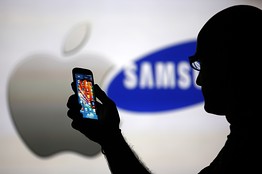 Samsung was dealt yet another blow by the courts. This time on their own turf. The Seoul Courts found that Apple did not infringe on Samsung patents pertaining to its messaging technology. The court not only ruled in Apple's favor, they claimed that two of the three patents in the lawsuit were invalid patents because they can be easily developed with existing technology.
The lawsuit had called for Apple to pay 100 million Won (US$95,000) in damages and ban sales of older Apple products in South Korea.
An Apple spokesperson said in a statement that they are "glad the Korean court joined others around the world in standing up for real innovation and rejecting Samsung's ridiculous claims."
Of course Samsung feels differently about the outcome stating, "We are disappointed by the court's decision. We will continue to take the measures necessary to protect our intellectual property rights."
Over the past year Samsung and Apple have been embroiled in several legal cases across the globe. Last year the courts in Seoul found in favor of Samsung stating that Apple had infringed on two of Samsung's "standard-essential" patents. The court also found in that case that Samsung had infringed on one of Apple's standard-essential patents.
Samsung has recently won a lawsuit in Germany when courts in that country threw out an Apple lawsuit over a language-input technology patent. A small victory considering the recent loss in the U.S. courts which cost Samsung over $1 billion in damages.
[via Wall Street Journal]
Related Posts