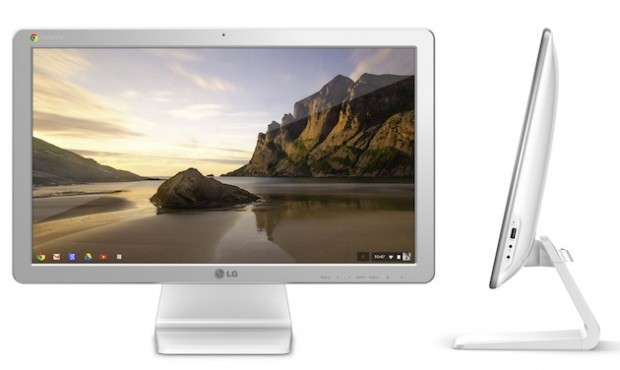 It seems Google is moving in the right direction with Chrome OS as the platform is no longer exclusive to laptop devices. LG has gone ahead with an all-in-one desktop with Chrome OS inside to compete with all-in-one devices based on Windows and Mac OSX. LG's beautiful looking Chromebase desktop comes with a 21.5-inch display that is capable of delivering 1080p content. Apart from that, the rest of the hardware is pretty mediocre, but that's what you expect from a Chrome OS machine that doesn't require a lot of power to perform.
On the inside, there an Intel Celeron CPU, 2GB of RAM and a 16GB SSD drive. Users will also come across a few ports including an HDMI port so you can use it as a monitor. It's a pretty slick machine that could be showing us what the future of computing my look like. Just imagine not running a single app from your computer's hardware, everything is in the cloud. This would do away with the need for high performance hardware, though one would still need a decent computer device to run app such as Photoshop or Dreamweaver.
Price is yet unknown for the Chromebase.
I'm no big fan of Google, but the company's plan for web apps is beginning to appeal to me. These days, I mainly use Word Web App after Microsoft dished out some cool updates. I could definitely see myself using only web apps, but only if the option is there to use them offline… which may sound odd, but people not in developed nations are without internet connections often.
[via LG]
Related Posts