There's no doubt about it. Manually resizing your Chrome tabs can be quite a hassle. It's just that there are certain cases in which you're left with no other choice but to do so. Like, for example, when you're using multiple accounts to log-in on the same website or social network. So it's like your splitting your screen into multiple divisions so that you can do two or more tasks at once without having to switch from one window to another. As for those who wish for a hassle-free way to split and resize their tabs, you can use this simple extension for Chrome called Tab Resize.
What is it and what does it do
Main Functionality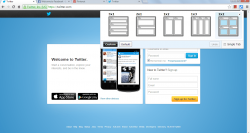 Tab Resize is a free Chrome extension that is designed to automatically split and resize your browser's tabs. What's great about this tool is that it comes with pre-defined split screen layouts so all you need to do is to choose the layout that you like and that's it. Just let Tab Resize do the rest of the work. You can just sit back, relax and watch as it automatically adjusts the size and position of your selected tabs. That's not all. This extension also supports user-generated layouts. This means that you can create and add your own custom layouts. You can also opt to restore your tabs back to their original layout.
Pros
Easy to use, no configuration required
Features a total of five pre-defined split screen (split tab) layouts – 2×2, 3×1, 1×3, 2×1 and 1×2
Supports user-generated layouts – users can create their own split tab layouts (just indicate the number of rows and columns that you want)
You can easily restore your tabs back to their original layout by clicking the "Undo" button
You can set the extension to "Single Tab" mode – in this mode, only the selected or highlighted tab will be resized. The rest of the tabs will be ignored.
Cons
This extension can only be used to resize and split tabs – you cannot use it to resize two separate browser windows
Won't work on multiple monitors
Discussion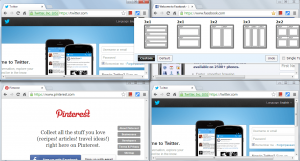 Tab Resize provides a quick, simple and hassle-free solution for users who wish to split and resize their tabs on Chrome. The way this extension works is very straightforward. First, you need to install the extension to your web browser and after which, it will add its shortcut icon to your browser's omnibar (aka your address bar).
After clicking its icon, you'll eventually see its list of pre-defined layouts. It has a total of five different layouts and each of which varies in terms of rows, columns and tab sizes. For example, the 1×2 layout means that you can split your tabs in one row and two columns so it can only split a total of two tabs. Now, here's the important part. The changes will immediately take effect as soon as you click the layout that you want so you need to make sure that you've carefully selected your tabs.
What does that mean? It means that you need to select or highlight the tabs that you want to split or resize beforehand. Remember, unless you select the "Single Tab" mode, Tab Resize will automatically split and resize the tabs located to the RIGHT of your active (highlighted) tab. So let's say that you're currently viewing this review on your active tab and you have two more tabs (Tab A and Tab B) located to its right portion. If you choose the 1×2 layout – this tool will only split and resize "Tab A" as well as your active tab. It won't resize and split "Tab B" unless you choose the 1×3 layout. If you want to restore your tabs to their original layout, just click the "Undo" button.
What I also like about Tab Resize is that it allows you to create your own custom layouts. You can do this by clicking the "Custom" button and then you specify the rows and columns that you want to appear in your custom layout.
All in all, this free Chrome extension does a good job. It does what it is intended to do plus it's hassle-free. There's no need for you to go through all the trouble of splitting and resizing your tabs. It's just that this tool won't work on two separate browser windows plus it won't work on multiple monitors.
Conclusion and download link
I find Tab Resize for Chrome quite useful especially when I have to do a side-by-side comparison or when I'm using multiple accounts to simultaneously log-in to the same website or social network (ex. Facebook, Twitter). It is also very simple to use plus it doesn't have any annoying glitches or errors. So if you want a quicker way to split and resize your tabs, I would suggest that you try this extension. It may have a few drawbacks but its pros have definitely outweighed its cons.
If you want something like Tab Resize but for other programs and windows (i.e. not Chrome), check out WinSplit Revolution.
Price: Free

Version reviewed: 1.1.0

Requires: Google Chrome in Windows XP, Vista, 7, 8, Linux and Mac OS X

Tab Resize on Chrome Web Store
Related Posts