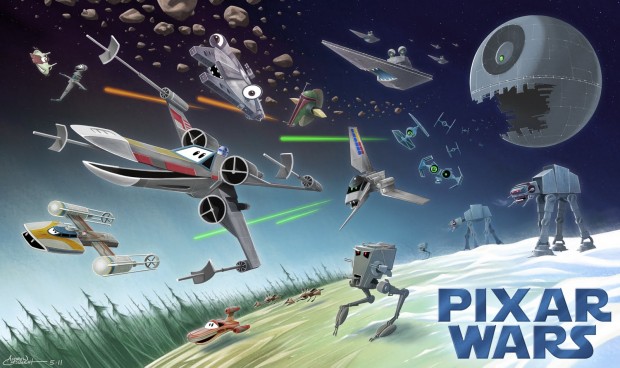 When you own one of the greatest animation studios on the planet and recently acquired one of the most beloved sci-fi franchises, it's kind of a no-brainer to put those things together. According to The Latino Review, who has been right about other movie rumors before, that's exactly what Disney has in the pipeline.
The report says that Disney has given Pixar a Star Wars movie. Considering that they have multiple movies, TV shows, comics and more planned for Star Wars, it's not too much of a surprise. But the fact that we're hearing whispers of this combination actually happening is good news. Pixar has almost flawless track record (let's forget Cars exists), and an animated Star Wars spin-off could potentially be amazing — the animated Clone Wars series was already great without their help. It could also go horribly wrong if they decide to make the image in this post a reality.
There are no details besides the fact that Pixar will be working on Star Wars. But that's enough to get me excited. And I think you should be too.
[via The Latino Review, image by Andrew Chesworth, via Popped Culture]
Related Posts