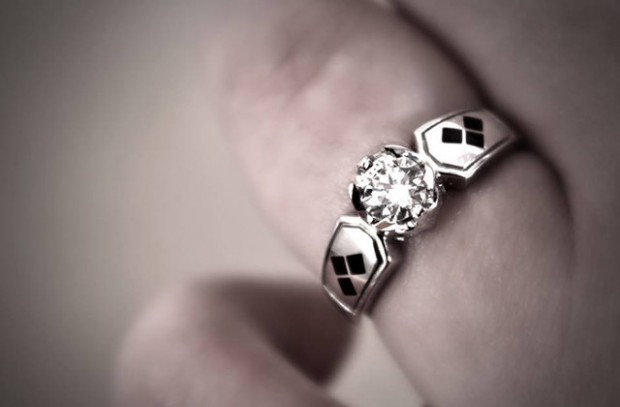 When I saw this ring, all could say was this was definitely a match made in Gotham. What we have here is a Batman and Harley Quinn themed engagement ring, that was designed by Daniel Maffett and made by Tom Sayers of Sayers Jewelers. From what we understand, this bad boy was designed for Daniel's fiancé.
"My goal going into this design was to create a ring that was traditionally elegant and sleek but represented my fiancé and I. Comic books are a big part of us and her favorite is obviously Batman and her favorite character is Harley Quinn," says Daniel. Delivering the ring was the couple's dog who proudly carried it in a sack of coal to Daniel's fiancé.
Great thinking on Daniel's part, especially with the dog delivering the ring carrying a sack of coal. He was lucky the dog didn't run off somewhere, never to be seen again.
Do you know how I'm going to propose to my girlfriend? First I'll take her out to somewhere nice and quiet, a place with lights everywhere along with a beautiful scenery. I'll have someone make a cake with the words, "Boo Boo Bear, I have something to tell you." Then propose via text message the following morning while she's at work.
Now, if only I wasn't such a geek, I'd probably have a girlfriend by now. [Forever Alone].
[via When Geeks Wed]
Related Posts