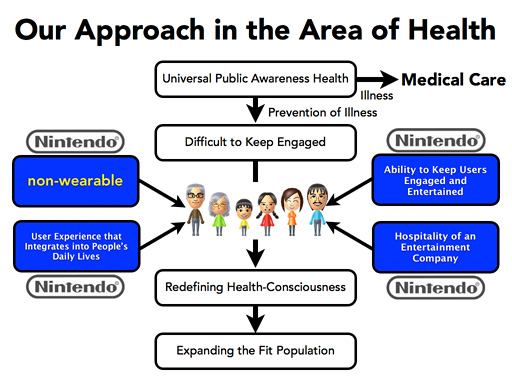 Nintendo has always been one to focus on health related games such as Wii-Fit. However, the company is looking to do something completely different in hopes to save the company from total disaster.
The Mario factory is aiming to extend its business into education and lifestyle, but before doing so, the company will first tackle personal health. Not an entirely new medium for Nintendo, as the gaming giant has sold over 42 million copies of Wii Fit and Wii Fit Plus to date. Furthermore, a new version was recently released for the Wii U, meaning that number could go even higher in the coming months.
Nintendo's plan to branch out into something different might not be related to video games, according to Nintendo CEO, Iwata. He said when Nintendo uses the word "health;" folks would likely think about Wii Fit, "However, we are considering themes that we have not incorporated to games for our existing platforms. Including the hardware that will enable such an idea, we will aim to establish a blue ocean."
Blue Ocean is a business strategy outlined by Nintendo in 2005, for those who are unaware of all the corporate jargons.
This ne plan will be based around a new hardware and software, but it might not be a video game console. The whole thing is a murky mess right now. Nothing makes sense, but hopefully Nintendo knows what it is doing. We wouldn't want to see the granddaddy of gaming venturing down the path of Nokia, Motorola, and Palm.
[via Nintendo]
Related Posts