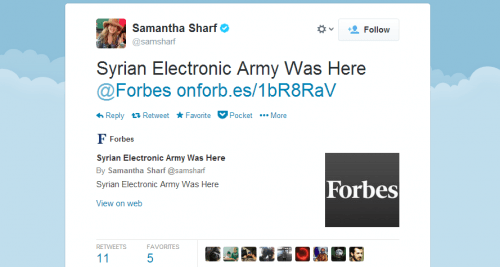 The Syrian Electronic Army (SEA) is back at it, again, and this time they've managed to hack into Forbes' website.
The SEA announced on Friday that they'd successfully hacked into Forbes and managed to steal the emails and passwords of over a million of their users. They also posted a story called "Hacked by the Syrian Electronic Army", which has since been taken down.
Forbes also confirmed on Friday that it had been the target of an attack, and posted a message on Facebook, warning that their users should change their passwords.
"Security message: Forbes.com was targeted in a digital attack and our publishing platform was compromised," Forbes said in their Facebook post. "Users' email addresses may have been exposed. The passwords were encrypted, but as a precaution, we strongly encourage Forbes readers and contributors to change their passwords on our system, and encourage them to change them on other websites if they use the same password elsewhere."
"We have notified law enforcement," they added. "We take this matter very seriously and apologize to the members of our community for this breach."
When asked by the IBTimes why they hacked into Forbes, the SEA claimed it was because "many articles against the SEA were posted on Forbes, also their hate for Syria is very clear and flagrant in their articles."
Related Posts