A few months ago, we had published a detailed article about Pushbullet, a minimalistic Android app which allows you push content with other Android devices as well as PCs running Chrome and/or Firefox with the Pushbullet extension installed. At that time, the app, although very cool, had its limitations in that it was in its early stages, and the fact that sharing content from a mobile device to a PC required the PC user to have either Chrome or Firefox installed. It's been some time since then, and the Pushbullet team has been hard at work adding improvements and enhancements to their product. And guess what, they have even managed to push out a Windows desktop client that is available for download as I type this.
Pushbullet For Windows
The Pushbullet Windows client is in its beta stage right now, but from what I've seen and experienced while trying it out, its pretty darned solid. If you've been using Pushbullet insofar, you would know that when you install the Pushbullet app on an Android device, it automatically detects the Google account on the device and links to it. Thus when you install the app on additional devices linked to the same account, all devices linked to the account are listed within the app, making it easier for you to send something to a specific device. Similarly, the Windows client, once installed, auto-detects a Google account and links to it, and gets listed as a separate device. Hence pushing content from your PC to your Android phone or tablet or vice-versa is now a cinch.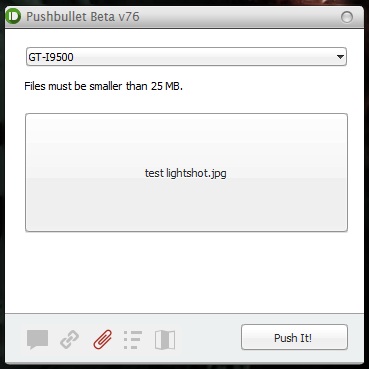 How Does Pushbullet Work on Windows
Pushing files from the PC is as easy as right-clicking the file and selecting the Send With Pushbullet option. The service supports transfer of practically any type of content – files, web links, to-do lists, contacts, email addresses, screenshots, photos, music, videos, office docs etc etc.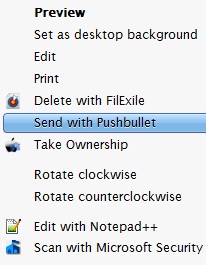 And everything is set up right out of the box, which means downloads go to your downloads folder, web links open up in your default browser, an address will open up in Google Maps and so on. Notification mirroring is still not functional on the Windows client, but the team states that it is still working on it and should be able to have it in an update as soon as they get it working. Also keep in mind, that currently, the app only supports pushing one file at a time, with a size limit of 25MB. While 25MB is a good enough size for most content that you want to quickly share with other devices, the team says that these limits are purely temporary and that the service will be much more powerful in the days to come.
Pushbullet For Windows | Pros
Easy and Quick Installation
Supports Practically Any Type Of Content
All Devices Linked to The Account Are Listed Separately
Adding/Inviting A Friend is Easy
Pushbullet For Windows | Cons
Can only push one file at a time
File Size Limitation of 25MB
Notifications Mirroring Yet To Be Functional
Conclusion
The Pushbullet Beta Windows client is pretty painless to install and is available for download at the official Pushbullet blog. If you're looking for a light, easy to use, and minimalistic app to push content to and from your desktop computer and Android devices, Pushbullet is highly recommended.
Related Posts