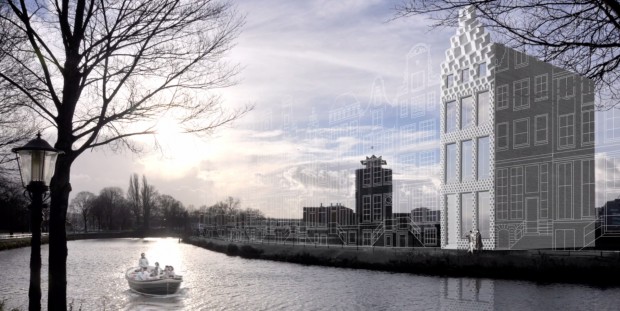 We've seen everything from 3D-printed guns to 3D-printed human body part replacements, so it's not too surprising that the first full-sized 3D-printed house is now being built.
The project is being built by Dus Architects and is located in Amsterdam. It's called the 3D Print Canal House and the goal is to build a "13-room Dutch canal house made of interlocking plastic parts." The printer being used for the project is basically a large-scale version of a desktop 3D printer called the KamerMaker, and the materials and process of printing the house can help reduce waste and reduce the transportation costs normally associated with building these kinds of structure.
One unique aspect of the house is that the rooms can be disconnected, so that the house can be moved. The entire project is also billed as an evolution of the traditional architecture process, wherein users would be able to design a home  and then hire a printing contractor to make it a reality.
The first 3D-printed house is expected to take around 3 years to complete, and after 3 weeks of work, a corner segment has been produced. The site of the house is open to visitors during weekdays.
[via The Guardian]
Related Posts