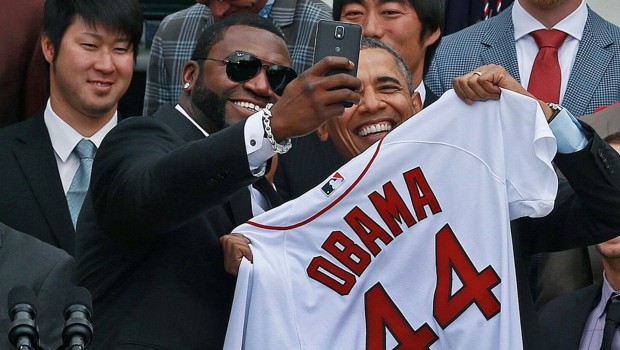 The World Series champion Boston Red Sox paid a visit to the White House recently, where a ceremony was held at the property's South Lawn. During the event, Red Sox hitter David Ortiz took the opportunity to take a selfie with the president himself. And according to a report from the Sports Business Journal, the tweet came soon after Ortiz signed an endorsement deal with Samsung — which gave Samsung the rights to use the selfie for marketing purposes:
Big Papi, Big Selfie. RT @DavidOrtiz What an honor! Thanks for the #selfie, @BarackObama pic.twitter.com/3I7ckLjquf

— Samsung Mobile US (@SamsungMobileUS) April 1, 2014
Samsung promoted the selfie on its own Twitter page and told The Boston Globe that they "were thrilled to see the special, historic moment David Ortiz captured with his Galaxy Note 3 during his White House visit." The original tweet was retweeted by over 40,000 users, making it a successful moment for Samsung's marketing. It also comes shortly after "the most retweeted tweet of all-time," which was a selfie featuring a multitude of movie stars at the Oscars by Ellen Degeneres, who was also promoting for Samsung.
As you can guess, the White House was not particularly thrilled about this move especially since they didn't know about it in advance.
There have been hiccups in Samsung's semi-genius plan to use celebrities to take photos with Samsung devices… such as the just-mentioned Ellen using an iPhone to tweet instead of a Samsung device. However, this one is definitely a win.
[via Sports Business Journal, The Boston Globe, Mashable]
Related Posts